We have really had a busy summer with the kids and have just tried to make it as fun as possible. With only a couple more weeks left before the daily grind of work and school returns, we are looking forward to our annual beach vacation. This year we get to enjoy a whole week of beach fun. Although the weather forecast does call for rain next week, we hope to be able to pack in a lot of fun in the sun and water. At least the resort has an indoor water park for those rainy days. Here are some of the other fun things we have been doing in the last few weeks:
Bowling!
Earlier this summer, my husband signed the kids up for free summer bowling. They get to bowl two free games a week. We haven't gone every week, but Eddie has taken the kids several times even when I didn't feel like going. Eddie was a really good bowler when he was younger, and although he hasn't practiced in later years, he is still pretty good. Evan is so cute trying to bowl like Daddy, and Brody just looks so cute squatting and pushing his big ball down the lane. He will actually bowl a whole game with us.
Daddy shows Brody how to bowl.
So cute watching his ball slowly making its way down the lane.
Waiting for his ball to come back.
He would take breaks at the game machines while waiting for his turn.
Here he goes again.
Mommy's turn to help. We did good together!
And then big brother helped too!
Evan bowled like a big boy.
Brody's cute little bowling shoes.
Evan bowled the second games by himself and just bowled for himself and Brody.
More Swimming!
One of the other major accomplishments Evan made this summer was that he not only learned to swim, but now he is jumping off the diving board in the deep end of our community pool by himself. He couldn't even go in the deep end before because kids aren't allowed to go in if they need any swimming assistance. The deep end is 10 feet so it is pretty deep, and he jumps in and swims out by himself.
Swimming under water and "diving" for toys.
He found them!
Brody is so OCD like his mother and likes to line up all his toys in a row. He found these letters and numbers in the baby pool and was sticking them to the side in a row. It entertained him for about an hour.
Squirting Daddy.
A stolen kiss.
Evan prepares to show off his new diving skills.
Getting in position.
And he's off.
Love catching the in the air shots.
And swimming in the deep end. He has come so far!
So proud of our swimmer!
Brody loves hanging out with Mommy under the umbrella and taking his afternoon nap by the pool.
Evan loves shooting water pistols and guns.
Cousin Lanny enjoyed coming swimming with us because his pool doesn't have a diving board.
Evan preparing to show Lanny his new found skill.
Lanny was an old pro at jumping off the diving board, but it had been awhile since he had done so.
He could have done this all day!
So funny! Looks like he's walking on air!
Lanny is a great swimmer too!
Evan started trying to do the "fancy" jumps.
Looks like a karate move.
Lanny
Evan
Brody posing.
Sweet Brody
Snack time!
Fun at the park and playgrounds!
One day Mommy wanted to check off one item on her summer bucket list which was to have a little picnic at the park. Daddy and Uncle Paul were off handling some family business so Mommy had the boys to herself. We stopped by Bojangles to pick up some chicken tenders for lunch and then headed to a quiet park that we don't usually go to. It was so quiet when we arrived that no one else was even there. It had a nice playground with very new equipment, but unfortunately it was very hot and all the equipment was too hot to climb on and most of it was too big for Brody. Also, Mommy was not happy with the meal because she didn't get several things she needed and asked for. *Sigh* Later that evening after Daddy and Uncle Paul returned, we met them for dinner and then decided to take all the kids to another park for some cooler evening play time. The kids loved it!
Eating their chicken tenders at the park. This picnic shelter was actually very nice and cool in the shade.
Brody stealing Mommy's fries.
Saying his new favorite expression - "Ohhhh!"
Checking out the playground equipment. Too bad it was too hot to enjoy.
Baby behind bars.
Evan trying out some of the climbing stuff.
Later that evening at a different park.
Cate shows off her climbing skills. This is how girls in dresses handle climbing in style!
Check out that girls tanned legs!
Brody wanted to hang out on the baby equipment.
Silly boy doing his little dance. We tell him to "shake his booty like a monkey."
Cousins Emma, Reade, and Evan (Lanny was absent because he was at a birthday party for a school friend.) I am pretty sure the last cousin picture I have on the purple dinosaur is of Emma, Lanny, and Evan.
Cousins Brody and Cate enjoy riding together.
Brody petting Mr. Dinosaur.
Giddy up!
Happy faces!
Even Aunt Jessica enjoys the purple dinosaur.
Another outing to the play area at our local mall. Evan has always loved these little rides. Man, the price of little rides like this have gone up a lot since I was a kid. Most of them are 75 cents to a dollar!
Fun at the movies and more fun with cousins!
There has been a lot of movie watching for Evan this summer both at home and at the theater. Mommy and Evan had a special date to see Despicable Me 2, and he laughed so hard through the whole thing. Then, Daddy took Evan and his cousins, Lanny and Reade, to see Turbo which they all seemed to enjoy. Brody is not ready to watch movies yet. Even at home, he just doesn't have the capability to sit still through a whole movie or even a TV show. He is a busy little man! One funny thing to remember about this summer for Evan is that he has watched so many "old" movies from the 1980's from when Mommy was a child. He has been watching Indiana Jones movies, Back to the Future I, II, and III, Ghostbusters I and II, Karate Kid, The Neverending Story (Mommy and him had a movie date night and watched this one together), and probably more that I can't recall right now. He is going to be such a cultured kid. Haha!
Daddy got a picture of the boys in front of the Turbo poster.
Cousins Cate and Brody have actually enjoyed several play dates this summer. Here they are enjoying playing with cars together. It is nice that they can find things to do together even though they are boy and girl.
One night after a dinner out together we all discovered a creperie nearby. Aunt Jessica and the kids had developed an appreciation for crepes lately after their trip to Paris, and Aunt Jessica has been making them a lot at home. It was nice for us to get to try this place out. Mine was delicious with strawberries, bananas and nutella inside.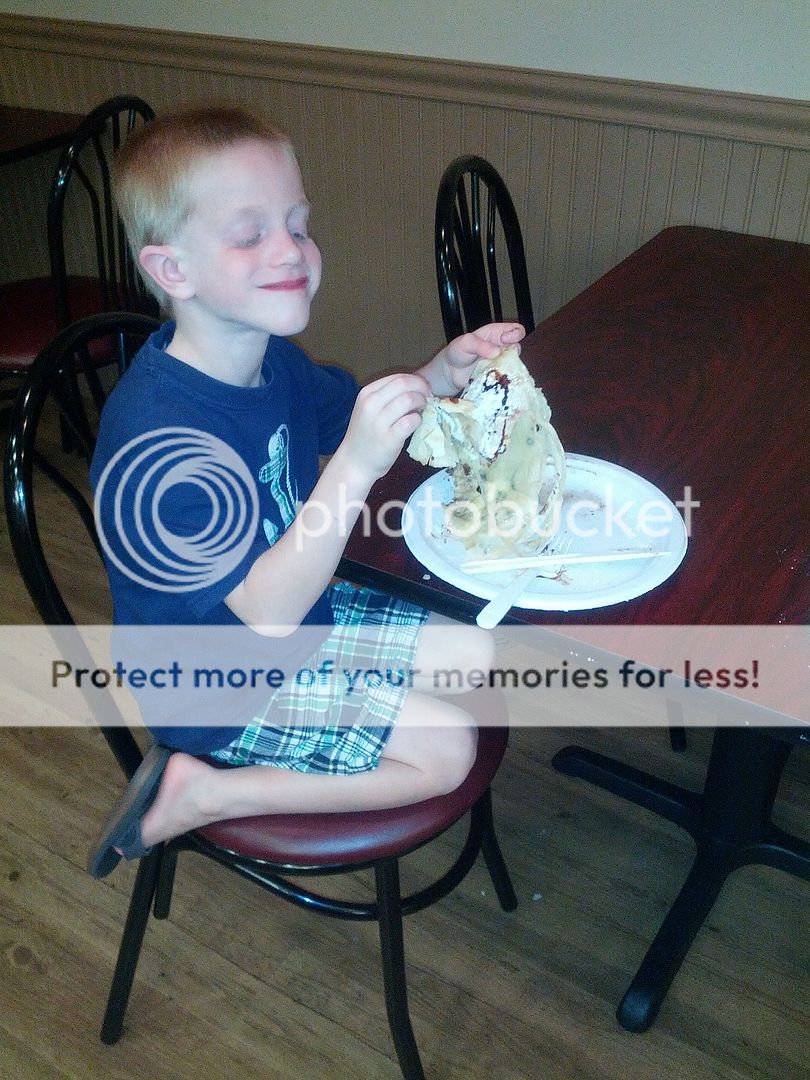 Evan sort of made a mess of his smores crepe. He couldn't figure out how to pick it up and eat it.
Reade enjoyed his with plain nutella.
And now we are all packed up and preparing to leave early in the morning for our much anticipated beach vacation! Yay!