One of the best parts of our beach vacation this year was that we got to spend some special time with family. Eddie's mom (Grandma), sister (Aunt Naomi), and nephew (cousin Grady) spent a couple of days with us at our resort, and my brother's family joined us for a couple of days as well after they had to leave their beach house on Friday. The kids had a great time playing in the water park together, and Evan enjoyed having lots of Grandma time.
Daddy and Brody loved the water slide!
Love their faces.
Happy water baby.
Cousin Emma is a drama queen. .
Cousin Cate liked riding on the dolphin boat while her daddy enjoyed relaxing on the lazy river.
Evan loved the slides with his cousins.
Here comes Lanny.
And Emma.
Cousin Reade before he decided he didn't need his floaties anymore.
Here comes Uncle Paul and Cate.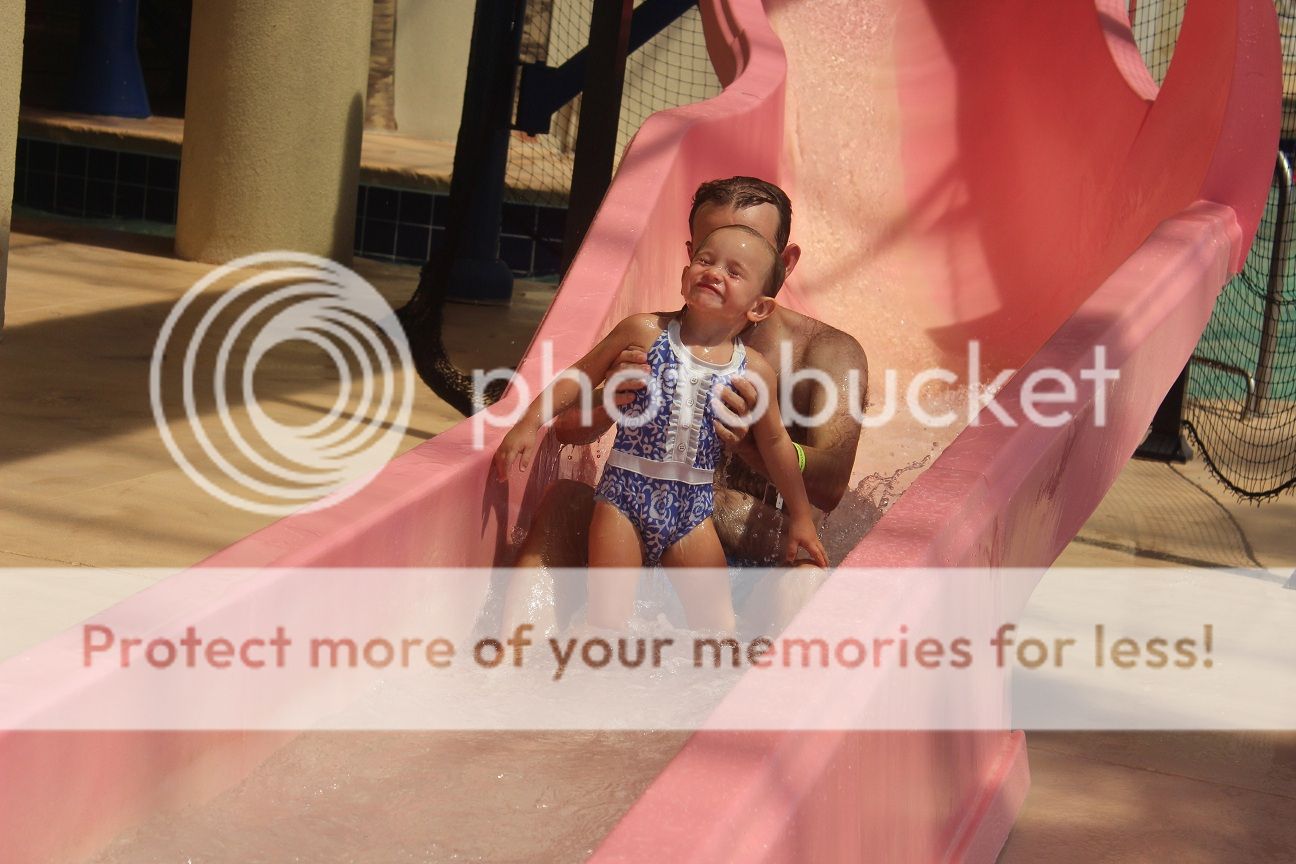 Love Cate's face here.
Here comes Evan.
Cousin Reade got really brave in the water.
He really liked the hot tub.
And so did Lanny.
Uncle Paul really liked the water slides.
And so did cousin Cate.
Evan copying Uncle Paul with his hands raised.
Love that face!
Brody and Daddy enjoyed the hot tub. Brody really liked the bubbles.
Cheesing for Mommy.
Now I really love those faces!
Big smiles!
Reade after he got rid of his floaties.
He would turn and go down head first on his belly.
Emma is a cool kid!
Aunt Jessica even got in on the action.
Love all three of their faces. Reade was loving watching his mama and sister!
Nope, I don't think these little boats were made to hold this many!
This was crazier than it looks. They were making a lot of noise!
Cousin Lanny almost tipped them over.
Until he fell off!
A car full of crazy kiddos! Lanny was like the shark swimming beneath the boat waiting for someone to fall overboard.
Evan showing Lanny how to do the big slide.
And down goes Lanny.
Almost all the kiddos in the hot tub.
Love this picture of Emma!
Lanny did the really big slide that shoots straight down really fast. He loved it!
Brody is ready to go out and have some fun the next day.
Evan greets cousin Grady at breakfast.
The kids love posing for pics with the big pyramid after eating lunch. Uncle Paul demonstrates how to touch the top of the pyramid. They did this at the Louvre in Paris.
Emma does it with style and flair.
Lanny does it with a serious face.
And Evan too. The sun was really bright.
Brody enjoyed playing in the mud on the beach.
And he loved playing with cousin Grady.
Sharing some mud with his cousin.
Cousin Grady wanted to give some back to Brody.
Brody looking for seashells.
He looks so big compared to last year.
Evan still practicing his jumping.
Mommy cannot hold Grady without her little man getting jealous.
Mommy and Brody enjoyed playing in the sand.
Love this cool kid.
Mommy and Brody enjoyed going swimming.
But Brody was not afraid to play in the water by himself.
The water was just right this day.
Just walking along the beach.
He did start to notice the seashells and picked some up.
He found one!
And another one.
Checking out his find.
He thinks this one is a keeper.
Love this shot.
He also liked stomping in the water and waves. It looked like a little dance.
And he enjoyed giving us all sand.
Bringing two fist fulls to Mommy.
He found a mountain to drive his beach buggy on.
Sweet cousins
The best one we got of all 3. Brody was not very happy, and Evan looks like he's choking Grady. Still sweet though.
Papa James and Grandma
We tried for a picture of the boys with Grandma, but Brody wouldn't let me leave his side.
Brody wouldn't even cooperate for Daddy, and Evan was upset the sun was in his eyes. *Sigh*
Maybe one of my favorite pictures ever of Evan.
Sweet boy.
And there is still more. Stay tuned for lots of putt-putt and more beach fun!