Since Wednesday was Evan's 6th birthday, we wanted to make his day feel extra special. We aren't planning to have a party until later in April when he and Brody will share a special party at a local private owned zoo called The Lazy 5 Ranch. We actually tried to have a party there when Evan was 2, but the weather did not cooperate. March has not been a good month for planning parties thus far. We hope that April will bring us fairer weather. Since this weekend is Easter weekend, we knew it wouldn't be a good time for party planning since so many family will be out of town. Thus, we tried to make Wednesday a special day. We woke the birthday boy up with singing and allowed him to eat one of his favorite doughnuts for breakfast complete with birthday candles. Then, he headed off to school while Mommy and Daddy prepared to take a little birthday treat to him at school for lunch. We picked up cupcakes, some balloons, and a yummy Chick-fil-a lunch. He loved being the birthday boy at school and passing out cupcakes to his class. Daddy asked him if he wanted to leave school early and go with us, but he preferred to stay at school. What can I say, the boy loves school! Mommy and Daddy left to pick Brody up for school and then after a little nap, they all picked Evan up. Mommy then went to get a birthday cake for later for the family and then Grandma and Papa James arrived. That was probably Evan's favorite part of the day. Evan wanted to go to Pinkberry for our favorite yummy cool treat. We only a little time afterwards for playing in the yard before heading to Evan's and Daddy's baseball practice (Daddy is coaching along with Uncle Paul). Unfortunately, Uncle Paul had his hands full when he arrived because Aunt Jessica was with cousin Emma at the doctor. The first child had to be the first to have a broken bone. She had fractured her wrist playing in the yard earlier. After practice, we all went to eat dinner. Evan chose a place that he loves because they have a little arcade room that the kids play in while waiting for dinner. By this time, it was getting pretty late, but we headed back to our house for a little cake before bedtime. Yes, it was a busy day, but the birthday boy felt celebrated with his favorite people to share it with him.
The birthday boy with his birthday doughnut!
Blowing out all his candles. Don't know what he wished for.
Sweet boy showing us his birthday ribbon he wore at school.
Daddy eating lunch with the birthday boy.
Mommy and her big birthday baby.
Evan passing out cupcakes to his friends.
And getting one of his own.
Evan's class eating lunch in the cafeteria.
Yum! Mommy always gets the best Pinkberry...she decided to get her two favorite flavors, chocolate hazelnut and salted caramel, swirled together with some chocolate shavings and chocolate hazelnut wafers.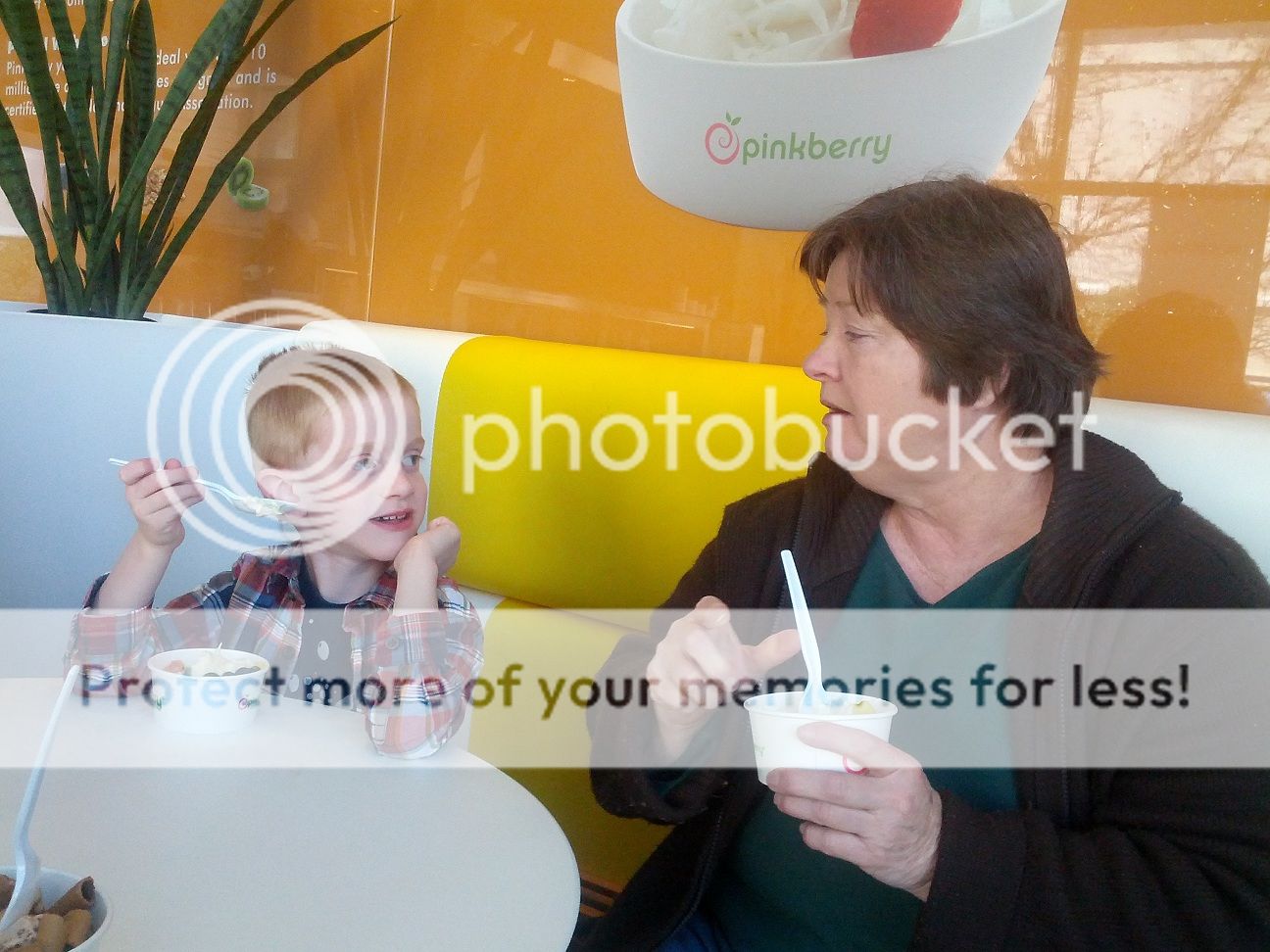 Grandma enjoying Pinkberry with the birthday boy.
Daddy helping little man eat his Pinkberry.
Just original for little man, but he enjoyed some of Mommy's too.
Evan's birthday cake
And some balloons to complete the festivities.
Emma helps sing "Happy Birthday" as she shows off her pretty green cast. Seriously, she was pretty happy about her cast except the itching.
The cousins waiting for some birthday cake.
Blowing out his candle.
Sweet baby enjoying his own little cupcake.
Evan and Lanny digging in.
And sweet cousin Reade.
Opening a couple presents from Uncle Paul and Aunt Jessica and the kids. He also got some money from Grandma and his Great-Aunts. He really didn't ask for anything this year since he had already gotten his new bunk beds and other things he wanted so he and Daddy enjoyed going to see a movie together today.
He loved his new Stomp Rocket from the cousins, and he also got a cute new outfit for summer. Aunt Jessica knows I like to dress them preppy so he'll look extra cute in his new J Crew shirt and plaid shorts.