The boys have had a really fun weekend! Last week, Daddy heard about a special event on the radio that would be in Charlotte this weekend. It was all about dinosaurs so it was perfect for these future paleontologists of ours. Evan has been the biggest fan of dinosaurs since before he was 3 when we just had to have the big dinosaur birthday party. I hope we are nurturing a growing fascination in Brody too. I guess we'll say this was part of their Valentine's treats. The pictures tell the tale of the fun they had!
Daddy and the boys enter Jurassic Park. Haha!
Evan immediately turned into a scary little velociraptor!
And then tried to eat his brother. Brody was all smiles though!
Then we saw mean old Spinosaurus with his cronies.
Ewe, Mr. Spinosaurus, I think you need to brush!
Evan found the bones of his favorite dinosaur, Stegosaurus.
Trying his hand at paleontology.
Cute little junior paleontologist.
Mommy helping clean off the bones.
He just liked playing in the sand.
I think we uncovered the bones of a stegosaurus.
Bet this unfortunate guy didn't get many dates. We'll just call him Mr. Egghead.
And sorry buddy but lizards with feathers kind of give me the creeps. It's like you couldn't decide what to be for Halloween...a dinosaur or a bird. Ha!
Yes, Evan looks too happy with his head in T-Rex's mouth.
My boys are crazy!
Brody's like "I'm not scared of you. I bite too!"
Evan the mighty T-Rex going after some nice long-necked herbivores. What a bully!
Evan petting the baby Triceratops. Awww, at least he's nice to babies!
And Brody gives him love!
Poor Ankylosaurus and her baby being chased by that big bully. Run, Anky, run!
Yep, little mean T-Rex joined in.
Brody wasn't scared of mean old T-Rex with his Daddy protecting him.
Calling for backup from his other Tyrannosaurus cronies to take on these guys.
I told Evan this was what kind of dinosaur he was. Haha!
See a resemblance?
Daddy and his buddy like the Triceratops. As one of Evan's favorite books proclaims "With a whack and a smack and a three-pronged attacked, Triceratops brings T-Rex to his knees." Ha!
Evan's favorite dinosaur, Stegosaurus, encounters his rival, Allosaurus, the mean predecessor of Tyrannosaurus.
Evan and his silly faces now.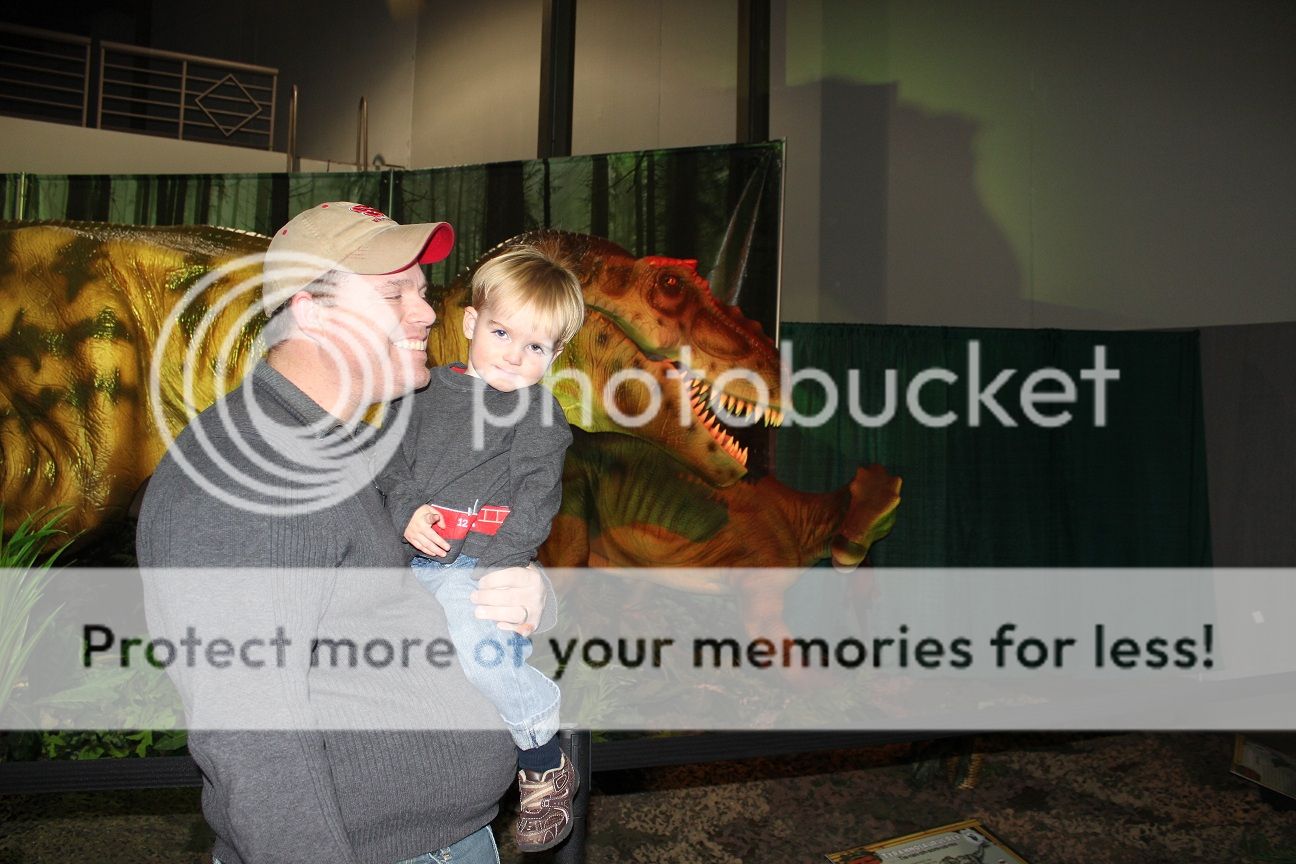 Daddy and our little cutieasaurus again.
Brody enjoyed the toddler area where he got to ride on lots of little dinosaurs.
Evan joined in the little kids' fun.
He tried to help little brother get on this one.
Brody says, "Yeehaw! Giddy up, dinosaur!"
Brothers riding together.
Evan got to ride the animatronic Triceratops. I was upset because he had wanted to ride one of the bigger dinosaurs until he saw a big girl in front of him get on one and act like a 2 year old crying and begging to get off (seriously, she was probably 10!). Then, when it was his turn, he got nervous and scared and wouldn't ride the one he wanted to. He got on this Triceratops but was unhappy the whole time as it barely moved.
So that convinced him to give the bigger dinosaur another chance. All smiles so it worked out!
Then Evan insisted we play this little dinosaur mini-golf game.
Daddy helping Brody putt his ball through the dinosaur's mouth.
Big brother didn't need any help.
He's a putt-putt pro thanks to years of experience at the beach.
Daddy and Brody got a hole-in-one.
One more putt for Evan.
Then, there was some bouncy slide fun.
And the boys enjoyed doing the dinosaur maze together.
Although Brody actually preferred dancing to the music more.
And to top off our great day, we got another surprise yesterday! Need a hint?
Stay tuned!