The day I had been longing for this winter finally came. It was a bit of a surprise, but it was a nice one. We had spent our day on Saturday at the fun dinosaur show, and then we decided to go check out Daddy's new office that he has been working so hard to get ready. Daddy's old office was in the basement of a county office building in uptown Charlotte, and it just felt like a closet. He spent as little time as possible in the office for that reason. The process of getting his new office started over a year ago. Several volunteer fire stations in the Charlotte area were being closed, and one of the stations offered the building to Eddie for his office. Of course, giving property to the state involves lots of red tape and is not something that can be done in a day. Talk about inefficient! Anyway, the paperwork was finally signed and everything was official a few months ago, but the building still needed lots of cleaning up and work. Since Eddie is still waiting for his assistant's position to be filled (again, very inefficient system), the bulk of the work fell on him. He painted, acquired office furniture, and is in the process of getting everything set up. There is still lots of work to do to the building, but the office is almost functional. The fire station is a large metal building with several large bays for parking fire trucks and equipment. He is going to be able to store some of the district's big equipment in there. It has a pretty yucky and outdated kitchen area too. Anyway, he is pretty excited about the progress he has made. While we were checking out his office, I looked out the window and noticed very fat snowflakes were falling. We have had a couple of teasers this winter so we assumed that this wouldn't last long. It had actually snowed a little that morning at our house for maybe 5 minutes. We rushed the kids outside to at least get to see the snowflakes. Brody loved the big snowflakes hitting him in the face and sticking to his long eyelashes.
Brody loved seeing the big fat snowflakes falling and feeling them land on his face. Notice the blue stuffed giraffe. It has become a fixture lately.
Happy snow baby!
Evan rushed outside so fast that he didn't zip his coat or put his hood on. He loved the snowflakes hitting him in the face.
We only hung outside for a few seconds because the wind picked up and was blowing the snow around fiercely.
Already learned to stick his tongue out to catch some.
Contemplating this white stuff hitting him in the face.
We piled into the van and headed home, and the ground was covered in seconds.
By the time we arrived home 20 minutes later, we had our very own little winter wonderland.
Beautiful snow covered trees.
Evan checking out his backyard while mommy set out lots of bowls to collect some snow. A little excessive perhaps but she was determined to collect enough for snow cream. Unfortunately, most of the snow had already fallen so the bowls didn't fill up, but she was able to fill 3 large bowls with snow from the clean snow that accumulated on our patio table.
Snow covered play equipment. Snow makes everything look lovely.
My little snow baby.
And for comparison, this was Evan in his first snow at about the same age in 2009. We did get a little more that year, but the smiles on their faces are pretty similar as they wear the same snowsuit and coat.
It was actually still daylight outside, but this is what the pictures look like if you use a flash in low light conditions.
Without the flash, you can tell it was still plenty light outside although dusk was near.
I just love his little happy face. Unfortunately, the cold did nothing for his cold he has been fighting. It escalated the next day, and he ran a slight fever and developed a bad cough at night from all the congestion.
Aiming his first snowball at big brother.
Almost time to go in as he was getting so cold.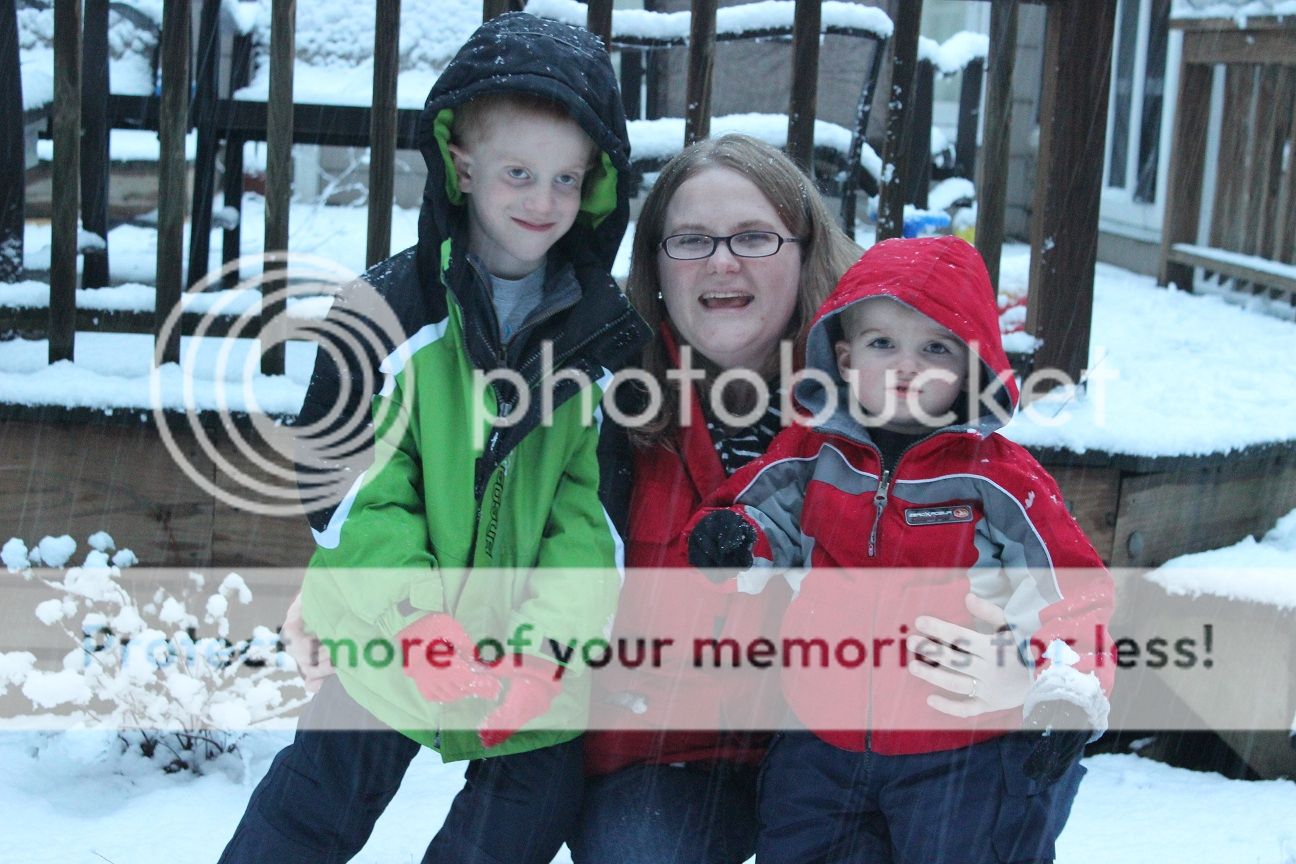 But first, we had to get some group pictures.
I just love these boys.
And Daddy and his little men. This is the first year that we haven't all been in red coats. Evan graduated to a green one.
Love all of those boys!
And later after the boys had their baths and we were waiting for pizza to be delivered, the lights went out. They stayed out for a couple of hours so we enjoyed dinner by candlelight, and a lovely game of Candyland in the dark. Brody was just fascinated by the burning candles and just laughed and smiled at them.
The next morning we headed out to enjoy a little more of the snow as it was quickly melting away.
Uh oh, looks like we had a four wheeler accident.
Brody's four wheeler was low on power so big brother gave him a boost.
Brody's cheese face
Pretty snow baby
Happy snow baby
Just amazed.
Mommy looks like she was caught in a blizzard as the wind brought down snow from the trees. The last time we had snow in winter of 2010/2011, I was pregnant with Brody.
Christmas Snow 2010 - Mommy even made a snow woman with a little bump.
Evan likes swinging in the snow.
Brody's first snow angel!
Evan makes his snow angel.
She wore a green "dress." Ha!
Making snow angels together. Brody actually liked lying in the snow.
My littlest snow angel.
Two snow angels. Evan got a little too close to Brody's.
Mommy and her little boy going for a snowy walk.
Brody didn't make footprints in the snow...he made tracks. He shuffles when he walks apparently and doesn't like to pick up his feet.
The sweetest smiles
Big brother's antics had him laughing.
Yum! His first snow cream!
Evan could eat a carton of this stuff. He wanted to put candy in it. I told him in my best Gollum (from Lord of theRings) voice that he would "ruins it." Haha!
Brody digging in for more.
So although we didn't get too much snow and it was gone very quickly, we are thankful we shared these sweet memories! Brody can't wait for his second snow!