While 2012 may have had its share of challenges, the good memories that were made will last us a lifetime. We welcome a new year and a new opportunity for even more good memories to be made. Last New Year's Eve, I incorporated the day into my weekly photo sessions of Brody for his first year and let the boys pick out some special party hats and party blowers to bring in the new year and used them in our photography session. This year, I thought we would continue the tradition to help the boys have a special memory of New Year's Eve. With two little ones, staying up until midnight is pretty much out of the question. Brody is usually ready to pass out before 9:00, and Evan is usually ready for bed by 9:00 or 9:30. We decided that 9:00 p.m. would be our midnight this year. I had to work on New's Year Eve so when I got home, we headed to the party store to get the boys' party hats and blowers. Then, we picked up pizza and a sparkling beverage and headed home to celebrate. After dinner and baths, the boys wanted to have a little dance party (that happens almost every night for Brody) so they turned on the music and danced around. Then, we thought there might be some good dance music on the NYC Rockin' New Year's Eve celebration, but there was way too much talking and commercials for Evan. He decided he would rather watch the
Goonies
which was also on TV. He is definitely his mother's child. Ha! After Brody passed out, we toasted in the new year before going to bed for the night. It may not have been the party of the century, but I definitely enjoyed my night with the boys.
Making some noise to bring in the new year. Brody was so cute trying to blow his blower. He couldn't get it to make noise so he actually did a very good job of making the noise himself.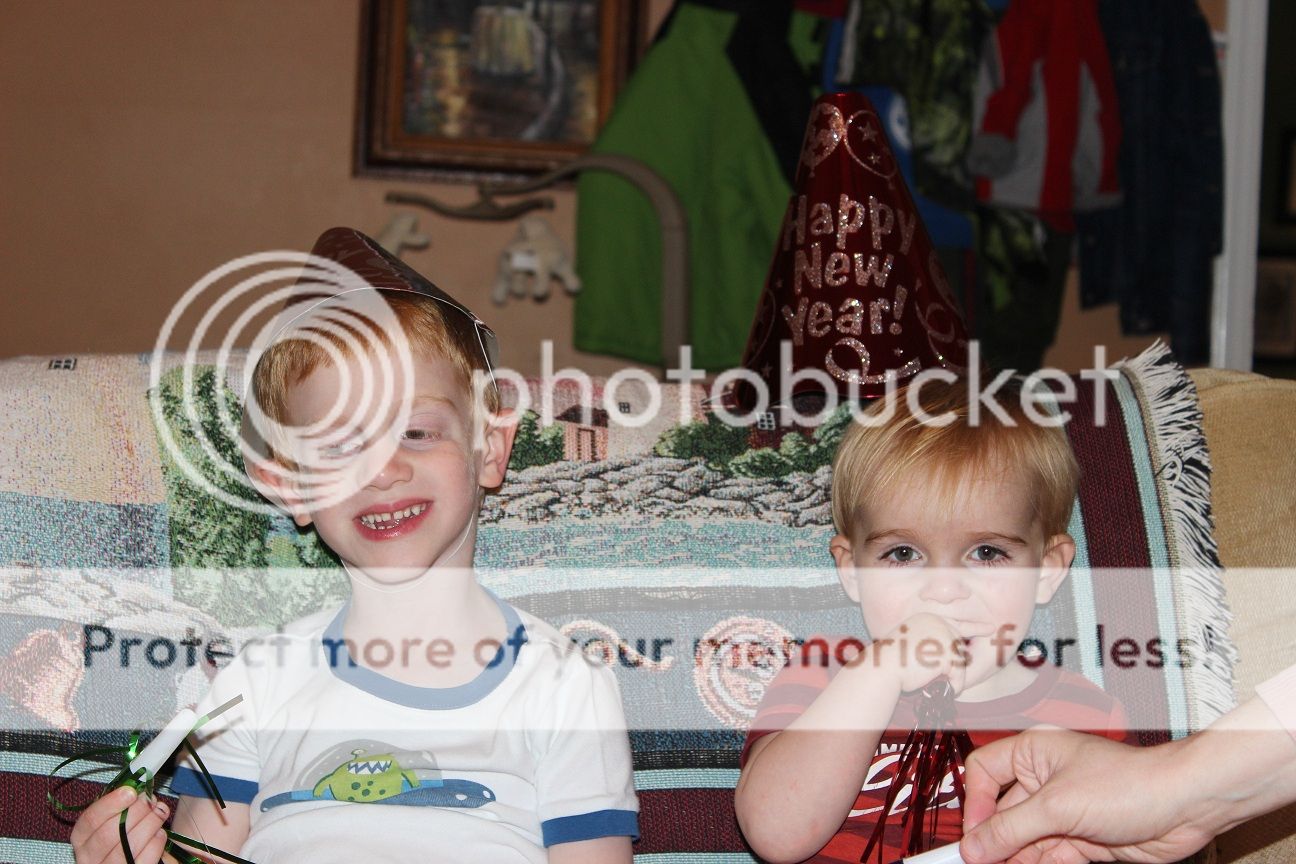 Sweet boys are ready for the new year.
Celebrating with Mommy.
I love Brody using his blower. He was definitely in the spirit.
Silly daddy did not want to cooperate for a picture.
Evan thought the little party blowers made cool robot fingers.
A special toast.
Drinking some yummy sparkling raspberry juice.
I love looking back at all the great memories we made in 2012. I can't leave that wonderful year behind without a quick review of our year.
January
We brought in the new year!
And celebrated our wonderful daddy and husband's birthday.
February
We went to the circus for the first time (and now have our tickets to go again this year since Evan has been asking to go since last year).
And the boys gave very special Valentine's this year.
March
We got to see some real mummies!
And Daddy and I got a much needed fancy date night.
Brody enjoyed his first visit to Chuck E. Cheese.
We were such a green family for St. Patrick's Day.
Evan enjoyed his second season of t-ball.
And had a fabulous cowboy bowling party for his 5th birthday.
April
Evan enjoyed hunting Easter eggs at school.
And the boys got to meet the Easter bunny in the neighborhood.
We enjoyed a wonderful Easter together.
Mommy and Daddy attended Mommy's formal masquerade Barrister's Ball.
We enjoyed celebrating our baby boy's 1st birthday.
May
Evan loved going to the golf tournament again this year.
Me and my boy picked strawberries together.
Our baby graduates from preschool!
Brody flies on an airplane for the first time.
We enjoyed a wonderful trip to Disney World!
June
Evan got another trophy for his second great year of t-ball.
Brody enjoyed some fun at the splash park.
Celebrated Emma's birthday with a fun mermaid pool party and ice cream bar.
July
We enjoyed celebrating a fun 4th of July.
We had a wonderful visit from Sherry's grandmother and uncle from California.
The boys enjoyed a sleepover.
Brody enjoyed learning to swim.
Evan got increasingly braver in the pool.
August
Old friends came to visit.
The boys enjoyed playing at the park.
Evan started kindergarten!
September
Our family enjoyed another wonderful beach trip.
Brody started preschool.
We celebrated Mommy's birthday.
The boys enjoyed celebrating cousin Lanny's birthday at Great Wolf Lodge.
We became a minivan family.
Evan started his second season of soccer.
October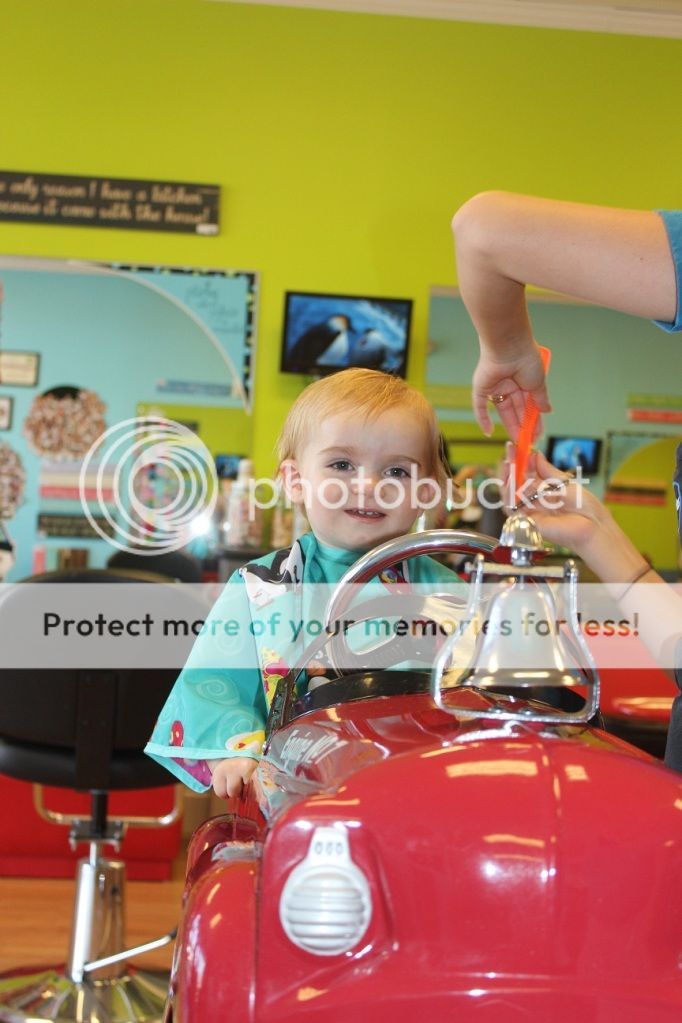 Brody gets his first snip snip.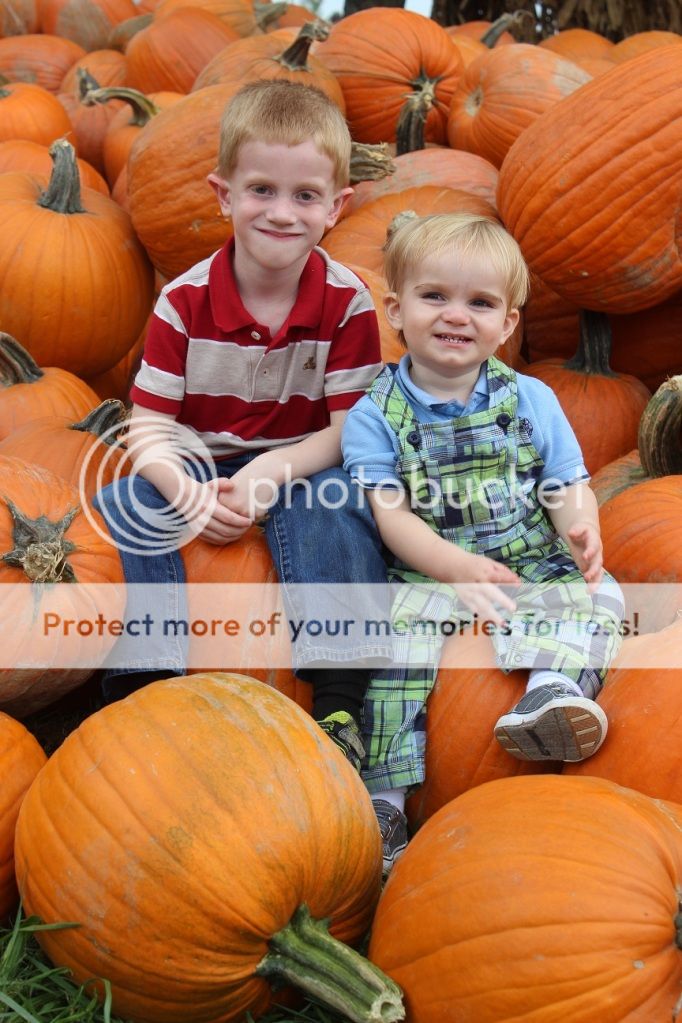 Our little pumpkins enjoyed picking out some pumpkins.
Smokey Bear visited Evan at school.
Brody had lots of fun during his first school days.
Our little baby is 18 months old!
We enjoyed a fun halloween together.
November
Evan finished another awesome season of soccer.
Evan received his first school awards.
The boys enjoyed playing in the leaves together.
Our sweet little nephew was born.
December
We celebrated a fabulous Christmas together.
Here's to another amazing year filled with happy memories together!
CHEERS!