I am sort of a traditionalist. My parents' tree was always very traditional too. We bought a new ornament for every year and enjoyed seeing all the ornaments and remembering Christmases past. That was a tradition I wanted to continue when Eddie and I got married. One tradition that we started that my parents never did was going to pick out a real Christmas tree. My parents always preferred using a fake tree...probably because you didn't have to remember to water it. Ha! Of course, I am married to a forester so he is pretty picky about his trees. I usually just let him do the picking. He is also picky about where he gets our trees and always ask the owners tons of questions. We have been using a local farm that harvest their own trees from the mountains and seems to do a good job of taking care of them. They drill the holes in the bottom of the trunk to allow the tree to get water more easily, etc. We always put up our tree the weekend after Thanksgiving and leave it up until after the New Year, and it always still looks nice until then. We are always kind of sad to take it down when it still looks so nice though. The boys enjoy running around on the farm a little while we do the tree selecting. We like that this little farm is a fairly short distance from our house so we don't have to haul a tree on top of the car for a long distance. We did the trip to the mountains the first year we moved here (about a 3 hour drive each way) to pick out our tree, but we just don't think it is worth the gas and extra time. We can go pick out our tree, get it home, and decorate it all in one day which makes me very happy. In decorating the tree, I have begun to collect a pretty decent collection of yearly and other sentimental ornaments. During our first few years of marriage, I decorated the tree in primarily silver and white, but a few years ago, I wanted something a little more festive. I switched to gold and a deep wine/burgundy color for the accents. I am sure I'll switch again in a couple more years.
The boys enjoy some fence climbing on the tree farm.
Just being boys!
We must have a picture of him running through the trees every year.
Picking out his tree.
The boys found their tree.
Those silly boys.
Brody thinks his daddy is hilarious.
Me and my boys
The boys wanted to go on a wagon ride.
A festive wagon
Brody likes anything with wheels.
But not as much as he loves water.
Yep, he found some water to play in. It quickly went from simple touching to rapid splashing with lots of giggles.
More running for big brother.
Following the peppermint path wherever it may lead.
And Brody followed along.
It ended at the workshop. Nope, Santa was not home.
Sitting on the hay wagon. We didn't pay extra for a ride though.
Sweet boys!
Silly big brother.
Brody and I pick out our tree.
Evan using the stepladder to help decorate.
The boys posing for a picture in their Christmas monster pajamas.
I love those little monsters!
Brody got his silky which means it is time for bed.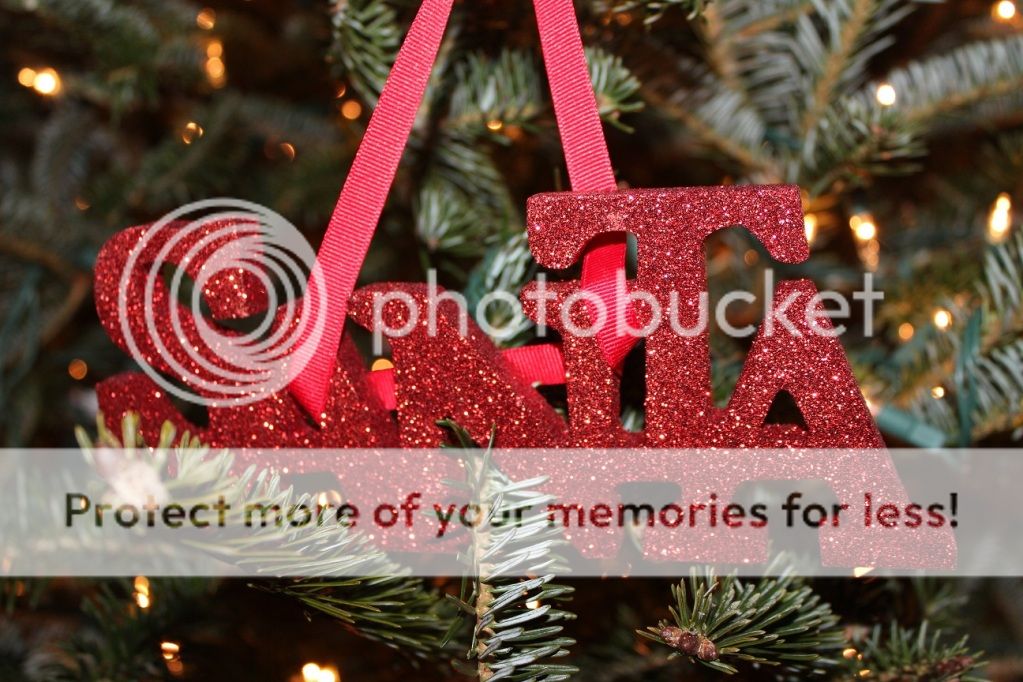 I picked these little glittery word art at Target in the dollar bin this year and added the ribbon to hang it.
A special Hawaiian Santa from our honeymoon in Maui.
My college ornament
Eddie's college ornament
A special ornament from the town where we used to live.
An ornament from our first trip to NYC together in 2004. That was a cold January trip, but we enjoyed it so much.
An ornament from our trip to California in 2010.
Another ornament from our trip to San Francisco in 2010.
2002 - the year we were engaged to be married
Our 1st Christmas ornament - 2003


2004 - Our 2nd Christmas together.
2005 - the year we purchased our first home together
Our 2006 ornament when we were expecting sweet Evan. I tell him he's the egg.
Another ornament from 2006 when we were expecting Evan.
2007 - Baby's 1st Christmas ornament
2008
2009 - Eddie ordered this one online after Christmas and didn't notice that it was a "mini" ornament so this Santa is pretty tiny.
2010 - This was the Christmas we were expecting Brody, and we each wrote a letter to Santa to put into the mailbox. We all asked for a healthy baby.
2011 ornament - We forgot to get a first Christmas ornament for Brody and picked this one up at Macy's. I need to see if I can find a 2011 ornament online somewhere.
We bought this sweet angel as our tree topper the first Christmas we were married. Since I switched to a gold tree, I don't put her on it anymore, but I still like to have her out.
The finished tree
It looks better without the flash.
Daddy's handiwork on the outside of the house. I am a traditional decorator with mostly white lights and wreaths with red bows.
We did add some color to the bushes for the kids.