Although technically this may not have been the first weekend of Fall, it felt like it to us. We just had so much Fall-themed fun. Brody modeled some new Halloween jammies that his big brother picked out for him at Children's Place. Friday night was a nice evening for playing on the playground during Evan's soccer practice, and Saturday evening was a nice night for celebrating Oktoberfest in our neighborhood with kegs of beer and bratwursts.
Who's Mommy's little pumpkin?
We thought these 18-24 month footie jammies looked so big in the store, but as you can see, he fills them out well. And looking super growney with his new haircut.
He loved the pumpkin feet. When you asked him where his pumpkins were, he would bend down and point to his feet. Cutest thing ever...I think so!
Seriously, I just couldn't get enough. Picture overload, I know.
Just as cute from the back. His hair was shaped up nicely in the back.
Love that little side profile with his round belly poking out.
Some Mommy snuggling was definitely happening. He was so cuddly after his bath, and he loves when Mommy wears her silky jammies. She takes the place of his silky blankie.
OUTDOOR FUN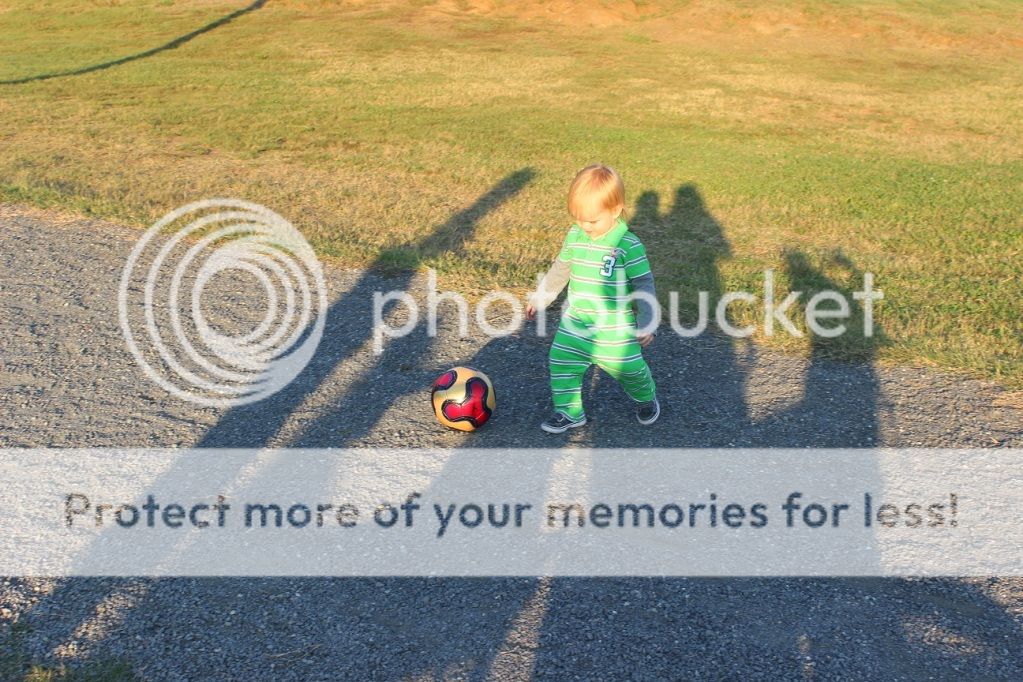 He kicked his soccer ball halfway around this track.
He met Daddy and showed him his trick.
Little mean green on the soccer field.
His first soccer goal!
My niece, Cate, and I had a nice little walk together too. So cute how she has just enough hair to make a little ponytail because her big sister had virtually no hair until she was over 2 years old.
Sweetie pie loves the camera.
Stopping to explore.
Future soccer player maybe?
She may be small, but we caught up to Uncle Eddie and big cousin Brody easily. She is fast, and her little walk is so cute. Brody kind of shuffles when he walks while Cate sashays and sways along.
And she passed him. They both kept trying to head towards the playground.
Posing for the camera.
Sweet pose.
Showing off her baby blues.
Finally made it to the playground. This is Evan's school playground.
Cate's like "Why are you following me?"
And then, she's like "And why do you go down the slide backwards, silly boy?"
Big girl shows him the proper way to slide.
She sits on her bottom and pushes off all by herself. I think that's pretty unusual for a 16 month old. Both of my boys always slid on their bellies first.
And down she goes!
And she actually walks up the stairs instead of crawling. It is funny because she is very small and has short little legs.
Big cousin Emma has plenty of energy to go around.
Both Brody and Cate tried to climb on this little pole swing. Cate made it; Brody did not. Bless his cautious little soul!
Don't let the dress fool you -- Cate is a daring and adventurous girl!
Sweet girl. The only time she cried was when we made her leave, but it was getting very late and past supper time.
Brody playing the shaker instruments.
Cate practicing her balancing act.
Sweet kids playing together.
OKTOBERFEST!
First pumpkin picture of the year at our neighborhood's cool Fall festival. Our neighborhood's HOA puts this event on every year complete with free beer and hotdogs/bratwurst and inflatable bouncers for the kids.
He loved this big pumpkin on our table.
Oh my, he's definitely a big kid now sipping his own drink pouch.
Silly Daddy!
Evan enjoyed the slides. He disappeared the moment we got there and was running around with other kids he has met in the neighborhood either through the pool this summer or through playing sports.
He is so funny!
About to roll.
A picture of the crowd enjoying the festival. Our neighborhood is pretty large with almost 1,000 homes.
Wheeeeeeee!
I just love how independent he is and how he doesn't need me to help him make friends now. He just runs off and finds his friends to play with.
Chatting with his pal, Connor, from t-ball.