We love our annual tradition of going to the "pumpkin patch." Last year, Evan and I got to go together to one with his preschool class, and I just loved that memory with him. We usually go to some kind of farm in the fall where we pick out pumpkins. They aren't usually in the field though, but we enjoy doing the extra stuff like corn mazes, feeding the animals (yes, we are very careful about washing hands afterwards because with a thumb sucker it is especially important...several children in our state this year have been stricken and died from E. Coli from such petting zoos), hayrides, etc. However, this was not that trip although we still plan to do this at some point in the near future. Evan had been begging to stop and see some pumpkins as we pass several pumpkin stands around our town. After church and lunch this past Sunday, we stopped at one of these nice places that had a ton of pumpkins (big, small, orange, white, bumpy, and almost any kind you can think of). They also had some beautiful chrysanthemums for only $6.00 for a large plant. I bought two of these and two little pumpkins for each of my little pumpkins. We'll get big pumpkins to carve soon, but we don't usually buy those from these places since they charge by the pound and can be pretty pricey for a nice sized one. Anyway, my brother was a single dad for the weekend while his wife was away so he and his kids joined us for this brief trip. His youngest, little Cate, was actually asleep so he stayed by the car while the older kids ran around. We'll definitely have to go back when she's awake so she can enjoy the pumpkin experience too.
Mr. Simpson sells pumpkins in the Fall and Christmas trees in the winter. We bought our first tree here in Charlotte when we moved here in 2007. That was Evan's first Christmas.
I love those little pumpkins!
Sweet boy posing for some pictures for us. I love these little madras overalls that are 2T in size so hopefully they will last him awhile. I picked them up while we were at the beach at the Hartstrings outlet store.
Hi, cutie!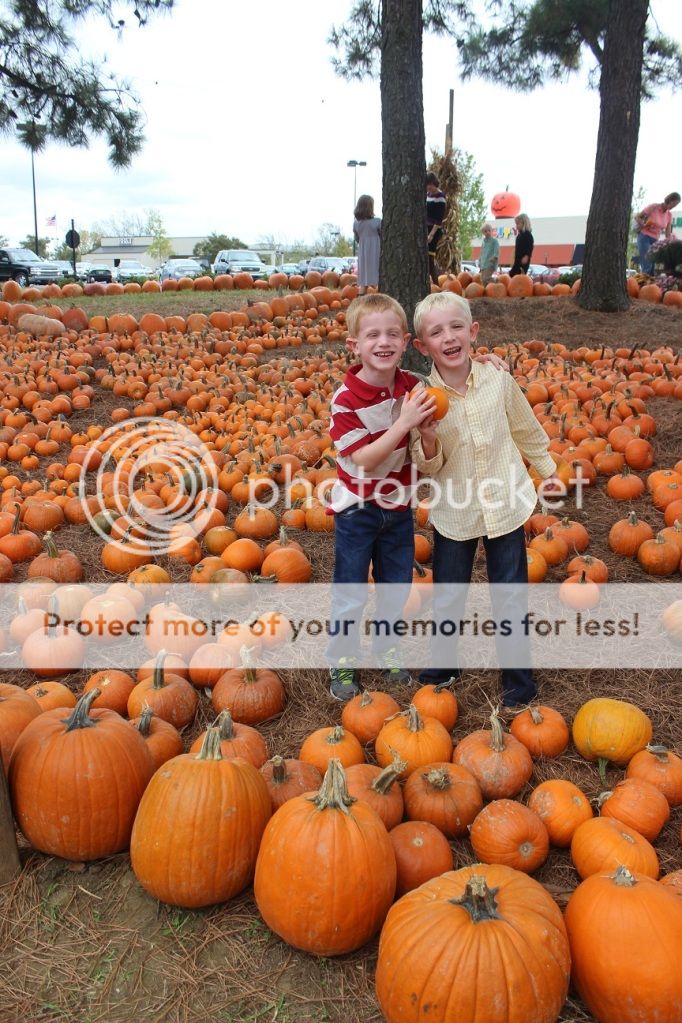 Evan and his best buddy, Lanny, enjoying the pumpkins.
Pretty Miss Emma
Handsome Mr. Reade picks a flower for someone...probably one of his sisters or his mommy!
Sweet Miss Emma taking care of her little cousin.
What a big boy he is this year!
I do love that grin! I had to threaten to tickle him to get it.
I think he is officially my blond haired baby now -- a big change from the dark haired baby he used to be.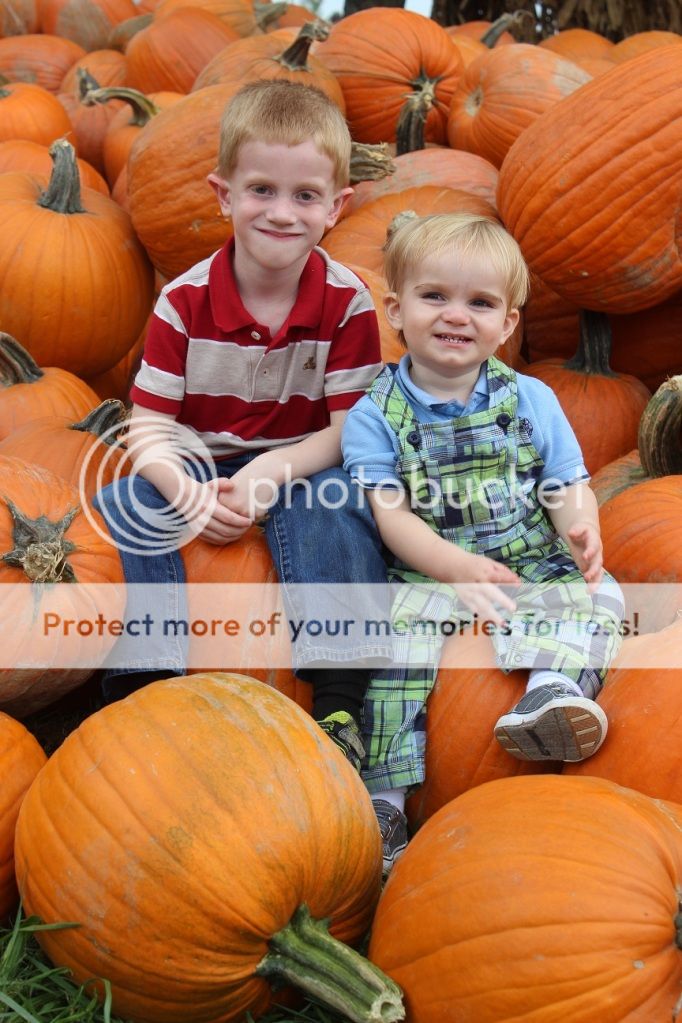 My pumpkins surrounded by pumpkins. Doesn't this look like one of those fake fall backgrounds they have at portrait studios? Haha! The pile was real and was pretty big!
Sweet brothers making memories together.
So happy!
He only had a little issue when he tried to figure out how to get himself out of the pumpkins.
But Mommy helped him out.
Stinker face!
He's on top of the world...or just a pretty big mountain of pumpkins!
I don't know what this face was about, but it looked sassy!
Love you, Stinker Winker!
This was our celebrity sighting of the day. The red arrow is pointing to Ric "Nature Boy" Flair, a world championship wrestler and Charlotte native. He was apparently visiting the pumpkin stand with his children and grandchildren. I promise I did not disturb them to get this picture. I was sneaking around the corner of this building being very covert. ;-)