This afternoon we took Evan to his new school's open house so we could meet his teacher and see his classroom. I am excited for him, but I am also pretty anxious about how the year will go. He is MY BABY! I don't want anyone or anything to hurt MY BABY! :-( Okay, maybe I am being a crazy mama. His classroom looked very cute and fun, and I am sure he will have a great year. Unfortunately, he was not in a class with any of his former preschool friends like I was hoping. I just hope he'll make lots of great new friends. After we checked out his school, we all went to dinner at Chick-fil-a. Yes, we do go there often because both kids eat well there. Brody can gobble up at least six grilled chicken nuggets and all his fruit and some of Evan's! Since the kids were already dirty from the day and were going straight home to take a bath, we let them play a little in the outside play place. Ugh, I cringe at how dirty and germy these places are, but the kids love them! Eddie and I have actually planned a little business (if the law thing doesn't pan out...ha!) where we are going to run a power wash service to clean and sanitize these play areas. Seriously, they need a good and thorough cleaning at least once a month, and I don't think I have seen one that does it. I think it could be a great business opportunity! ;-)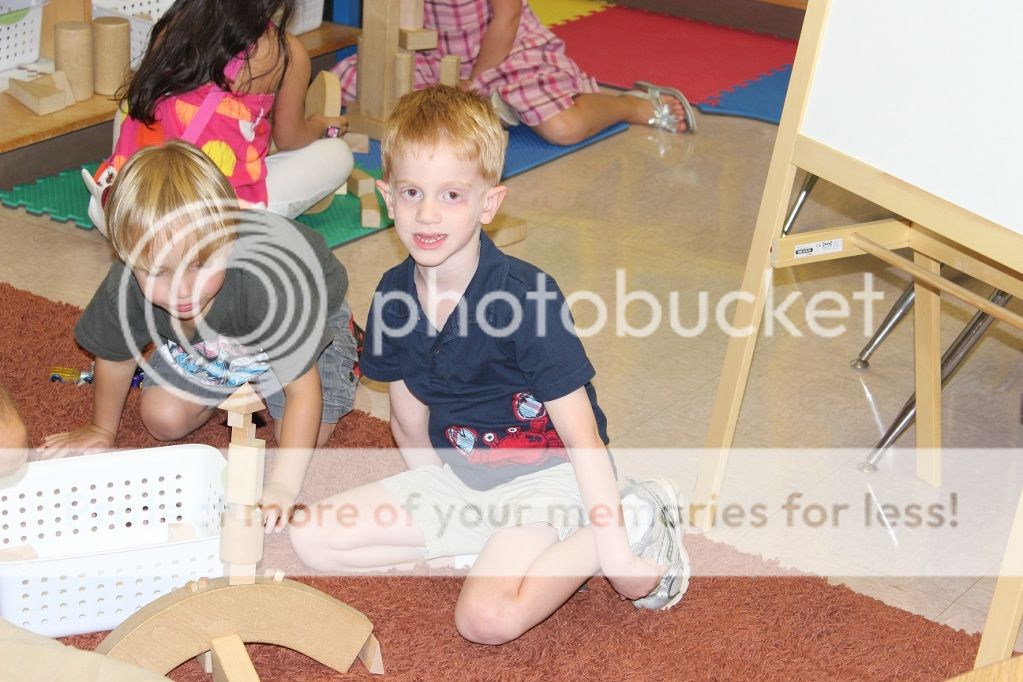 Evan and a new "friend" in his class already bond over blocks.
Just like last year, I am sure blocks will be one of his favorite activities!
Evan is a Bright Owl!
Mommy fills out an information sheet about Evan for his teacher.
I just love this shot because it shows how OCD my son is. Yes, he is truly my son as he has to create a "perfect" color pattern of blocks!
Brody really liked Evan's classroom too. Look at those tippy toes!
Brody's new trick. He loves getting hold of a phone and acting like he's talking on it. Here, he is putting the phone to Daddy's ear so he can talk. When he puts a "phone" to his ear, he starts jibber jabbering, but we have heard a distinctive "Ay!" that sounds like an Australian or British hello. Oh and he also used a ketchup pack as a telephone too. ;-)
Playing on the little slide. This is one of the few play places I've seen with a legitimate toddler sized slide.


Evan actually used to love it too and took his first steps here!
He figured out how to go down the slide by himself...on his belly!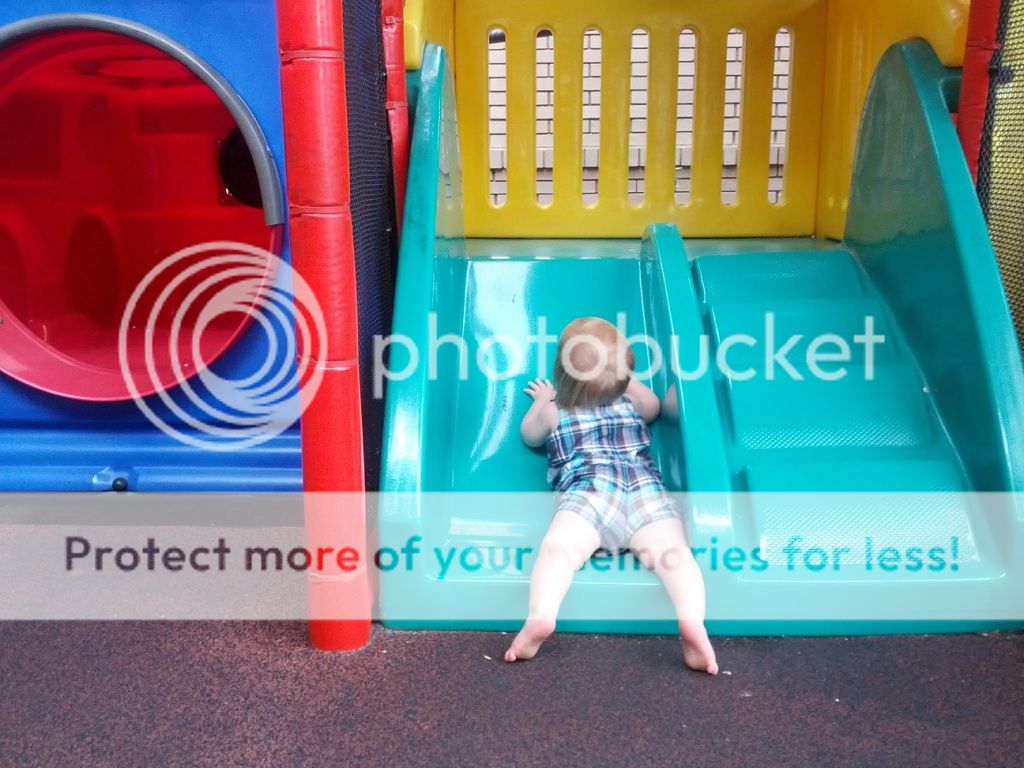 There he goes!
Silly boy, you can't go down that way.
He would climb up the slide and go down the stairs...backwards kid!
Up he goes!
He loved watching all these big kids.
He loved following this little girl around, but he hasn't quite learned the "wait your turn" thing and would just cut in front to go down the slide. She was very gracious.
And after we got home and had baths, both boys had to have a horsey ride!
"Giddy up, Dada!"
And they brought Daddy down!