It's a boy thing! They just all want to grow up to be heroes and save the day! I really think this was the best idea for a boy's birthday party. Evan's soccer and t-ball buddy, Porter, had his 5th birthday party at a local firestation. The party was easy to plan and fun for all and was even tax deductible (the only charge for the location was a tax deductible donation to the firestation). Can't beat that deal, huh? The boys (and there were quite a few of them) all enjoyed just running around playing on the fire trucks and seeing the firemen. It was a great day to be a boy! Eddie is friends with all the local volunteer and professional fire stations in our area because of his job responding to all the outside fire calls. He enjoyed getting to spend some time with his buddies during the party and has been wanting to take Evan to meet the guys too.
Our little fireman in front of the big red truck.
He has been wanting to be some kind of fireman for a while now...maybe since Nana and Papa gave him his little ride-on fire truck when he was a year old! Or maybe just since Daddy let him turn on his sirens in his own fire truck. ;-)
He loved checking out the truck.
Waiting to climb aboard!
Sitting on the front of the truck.
Little brother got to check it out too.
Daddy and his boys on the big red truck.
Wow, that's a lot of boys...but they were so good and were seriously entertained by this fire truck for an hour. Boys are just EASY like that! Yes, there was one little girl in the mix, and she didn't mind at all!
Evan drives the truck!
Birthday boy Porter takes the wheel!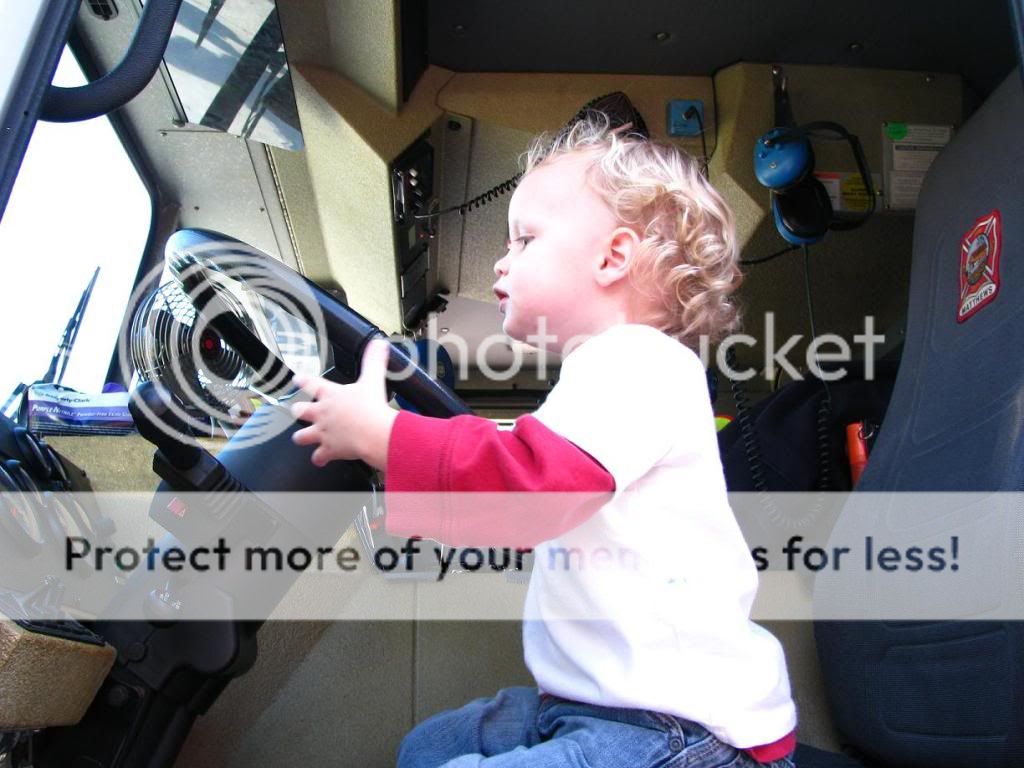 Porter's little brother liked all the buttons.
Evan strikes a pose. I think he plans to use this photo for his dating profile picture. Haha!
Or maybe this one.
Evan and his firemen buddies.
Evan and Cole, another pal from soccer and t-ball.
The birthday boy!
Porter's Dad gets to play with fire at the firehouse.
Porter with his Mom and Dad.
Evan gets a yummy cupcake.
Brody enjoyed some cupcake icing.