We had been waiting so long to share a fun halloween with two kids. Last year, Evan had really looked forward to getting to dress in a costume with his little brother. Mommy just had to coordinate their costumes. She would have loved to have made their costumes if she was more crafty, but she had to settle for store bought. She thinks they were rockin' their pirate and parrot costumes though. Brody also had to wear his big brother's costume for a little bit too.
BRODY'S 1ST HALLOWEEN
THE COSTUMES
The cutest monkey we've ever seen!
Big Brother loves his monkey!
Monkey in the jungle.
Monkey see, Monkey do.
Pirate Evan and his cute little feathered friend. What's a pirate without his parrot?
Love!
Mommy and her boys
Daddy teaches the little parrot to fly.
Daddy and his handsome boys.
Evan shows off his favorite pumpkin and that his house got "booed!"
A BIRTHDAY COSTUME PARTY
Evan's new school friend Scarlet's 5th birthday was a little costume party at Gymboree Play & Music. Scarlet's Mommy and Evan's Mommy are also school buddies so we all had a great time. Evan enjoyed some extra time with all his new friends on the Sunday afternoon before halloween.
Evan and his little "girlfriend" Ashlee playing "follow the leader" I think.
Sliding
Scarlet, the birthday girl, is in the middle dressed as a cute little Cinderella.
Evan enjoyed the "freedom" in this fun place. The kids can just run wild in this big room.
Jumping off the ledge.
Scarlet and Ashlee jump together.
Scarlet's Mommy was a kitty cat and her little sister was Princess Belle.
Evan loved being in the parachute house.
Ready for some sweet treats.
Sweet boy is ready for cupcake.
Evan and his buddy Brendan enjoy their cupcakes.
TRICK OR TREAT
We enjoyed eating a yummy halloween dinner made by Aunt Jessica and letting the kids get together in their costumes. Aunt Jessica made "spooky" spaghetti for the kids before they went trick or treating.
All the big boys with their swords. Lanny looked like Big Foot here, but he was a realistic looking gorilla with his mask on. Reade was the cutest little kangaroo.
Lanny and Evan were being silly as usual.
Sweet Reade loves cousin Evan, and Evan loves cousin Reade. That was really why he wanted a little brother...just like Reade!
Brody & Cate's first halloween!
And one with all 6 of the crazy kiddos! Miracle -- I think so! Emma the peacock, Lanny the gorilla, Reade the kangaroo, Cate the pink elephant, Evan the pirate, and Brody the parrot.
Evan rings the doorbell for trick or treating. He's an old pro!
Getting his bucket filled didn't take too long.
Our sweet neighbors, Mrs. Regina, and little Levi the tiger. Levi loves babies and is just so loving!
Levi's cute little face.
Our neighbor, Mr. Eddie, was pimpin' at the block party.
And so was his son, Zach.
PUMPKIN CARVING
Evan pretending to help Daddy scoop out his pumpkin.
No, he refused to touch the "yucky" stuff.
Evan helped Mommy carve her silly mummy pumpkin. He loves his mummy!
Daddy made Evan a Panther pumpkin.
Mommy's Pumpkin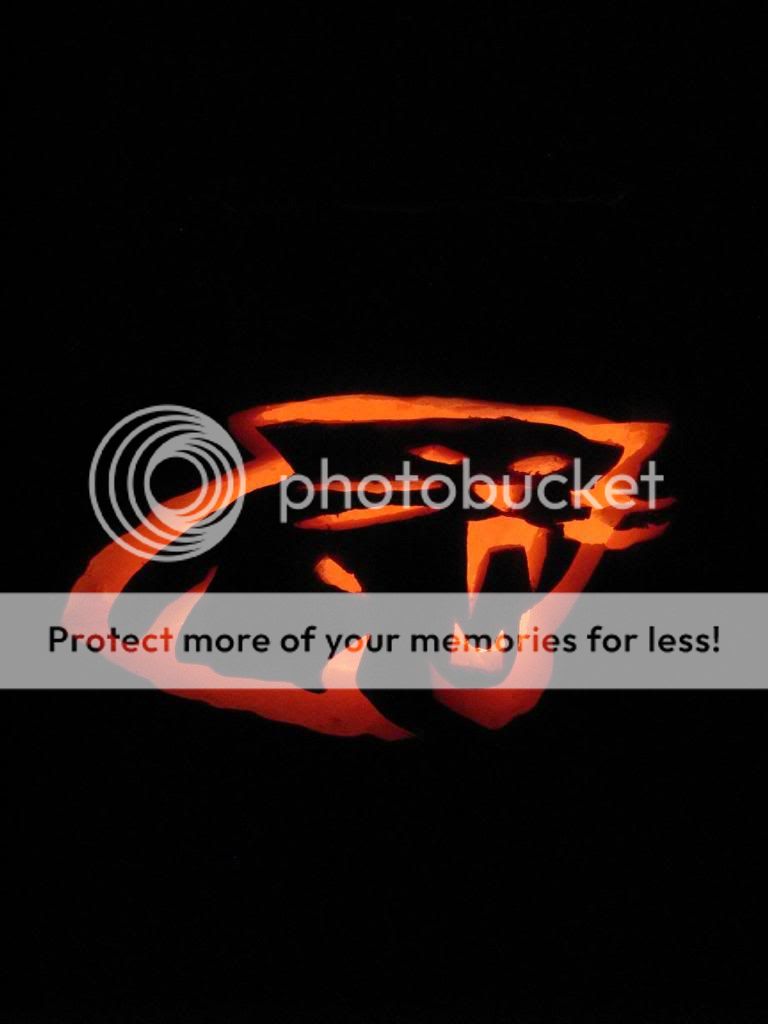 Daddy's Pumpkin
EVAN'S SCHOOL HALLOWEEN BALL
Since Halloween fell on Monday this year, Evan had a special Halloween Ball at his school. Everyone was supposed to dress as a "storybook" character. Evan already had the pirate costume so we just added a hook so he could be Captain Hook from Peter Pan. Of course, there were several princesses and a few comic book superheroes too. There was also one of the 3 little pigs, a little Jack "be nimble," and even a Big Bad Wolf (the teacher)! I loved all the pictures Evan's teacher took of the event.
And there's our cute little Captain Hook. Arrr!
Playing at one of the activity tables. Evan still chose to do the puzzle while his friends played with monster claws and eyeballs.
The class listens to the "Big Bad Wolf" at story time.
Yum...marshmallow spiders!
Eating doughnut "eyeballs."