Evan has been having so much fun at school the last few weeks. They've had so many fun events on the calendar and have really been so busy. He is making so many new friends now which makes me feel a lot better about making him change schools. He had some great little friends that he had gotten so close to over the last several years at his previous school so it was hard for us to take him away from them although we knew he would have to leave next year anyway when he goes to kindergarten. We hope that some of his new friends will go to kindergarten with him next year.
Evan and one of his new friends, Grant, building log cabins.
The boys teamed up for a game of basketball against their teacher, Mrs. D. She's a good sport!
Evan and one of his best new pals, Daniel, show off their Teddy Bears for "Bear Week." Evan had the "spookiest" bear since he insisted on taking his halloween bear.
A TRIP TO THE FARM
Evan and his pal, Alejandro, are partners on the trip.
Evan and Alejandro pose as farmers.
Evan the strawberry picker.
He's getting so big.
I gave Evan and Alejandro a ride in the wagon.
Then, Evan and Alejandro took turns giving each other rides.
Listening and learning about pumpkins.
Helping the boys find their pumpkins.
Evan found his very quickly.
Showing off their pumpkins.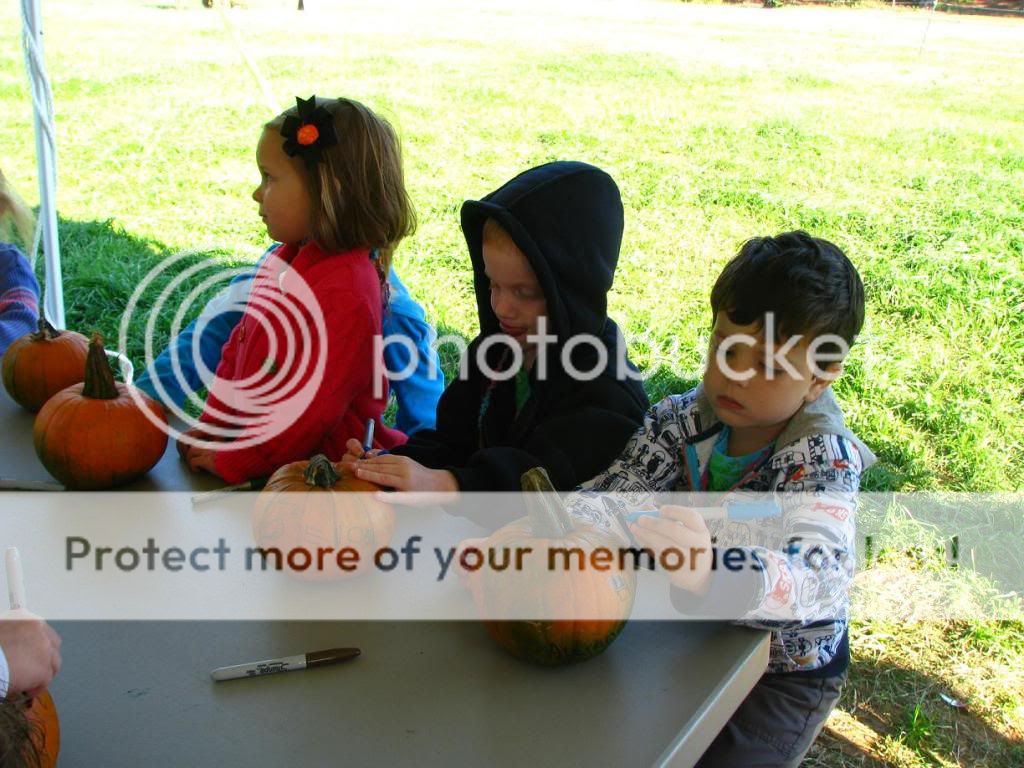 Decorating their pumpkins. Evan had to sit beside his "girlfriend" Ashlee. Her mother said they are apparently "in love." Haha!
Ashlee sure is a cutie.
Evan drew a face on his pumpkin. He's always so "practical."
Going on a "spooky" hayride.
The kids checking out the chicken coop.
Playing with the chickens was fun.
Evan's treasured feather.
Evan operates the pump.
Evan lets Ashlee have a turn.
This maze was a big hit!
Evan loved the challenge of getting through the maze.
This was actually quite challenging, but they all enjoyed getting "lost" in the maze.
He made it!
Enjoying his strawberry slushy.
Alejandro and Evan really enjoyed their drinks.
The class picture at the farm.
SMOKEY BEAR AND DADDY VISIT!
Smokey with Evan's class
Smokey gives high fives.
Daddy the Forester teaches the kiddos about fire prevention.