We can't believe half a year has already passed since Brody was born. It seems like only yesterday I was still pregnant with him and now he is just such an important part of our family. He is such a blessing.
Brody at 6 Months:
Size:
He weighed 17 lbs., 13 oz. (69 %ile) and was 26 inches long (49 %ile). He has still been wearing a size 2 diaper although we are about to go up to a size 3. He is outgrowing all of his 3 to 6 month clothes and needing more 6 to 9 month clothes for the changing Fall weather. It seems we are having a chillier Fall this year than we did the year Evan was born.
Developmental Accomplishments:
Brody has 2 teeth! Within just a few days of getting his first tooth, his second front bottom tooth also came through. Wow, are those little teeth sharp...and so cute! He is still a very happy baby who loves to talk and be talked to. He has been sitting up by himself since the beginning of this month. He is really curious about everything and is reaching and playing with his toys now. He learned how to splash water in the bathtub by himself too. He wants to sit up all the time and also likes to stand up holding your fingers. He makes circles around his exersaucer very quickly now playing with all the toys attached. He grabs for his bottle now when you offer it to him and can hold it although he still usually likes for you to do it for him. He also started sitting in his high chair seat for meals this month. He is making lots of sounds and trying to talk a lot and still loves to laugh.
Sleeping:
He is still sleeping through the night although we were having a little difficulty getting him to nap in the daytime, but he is doing better with that now too. He was falling asleep pretty easily but would wake up after just 15 or 20 minutes. We moved up from 5 oz. to 6 oz. of formula in his bottles and that seemed to do the trick. He will now sleep in his swing with the music playing for an hour or two at a time in the afternoon.
Eating:
He still loves to eat, especially baby food! He has tried avocados, peas, bananas, apples, pears, sweet potatoes, and squash, and he never fails to eat the whole jar and would probably eat more. He is now eating two jars a day. He also moved up to 4 bottles of formula (6 oz. each) a day with cereal and about 3 breast feedings a day. He gets a jar of baby food in the morning and in the afternoon.
And, of course, some pictures of the 6th month:
Happy fellow at 22 Weeks!
Getting more serious and thoughtful too.
Twins!
The cutest pumpkin in the patch!
Somebody was really getting his giggles!
Or two somebodies to be precise.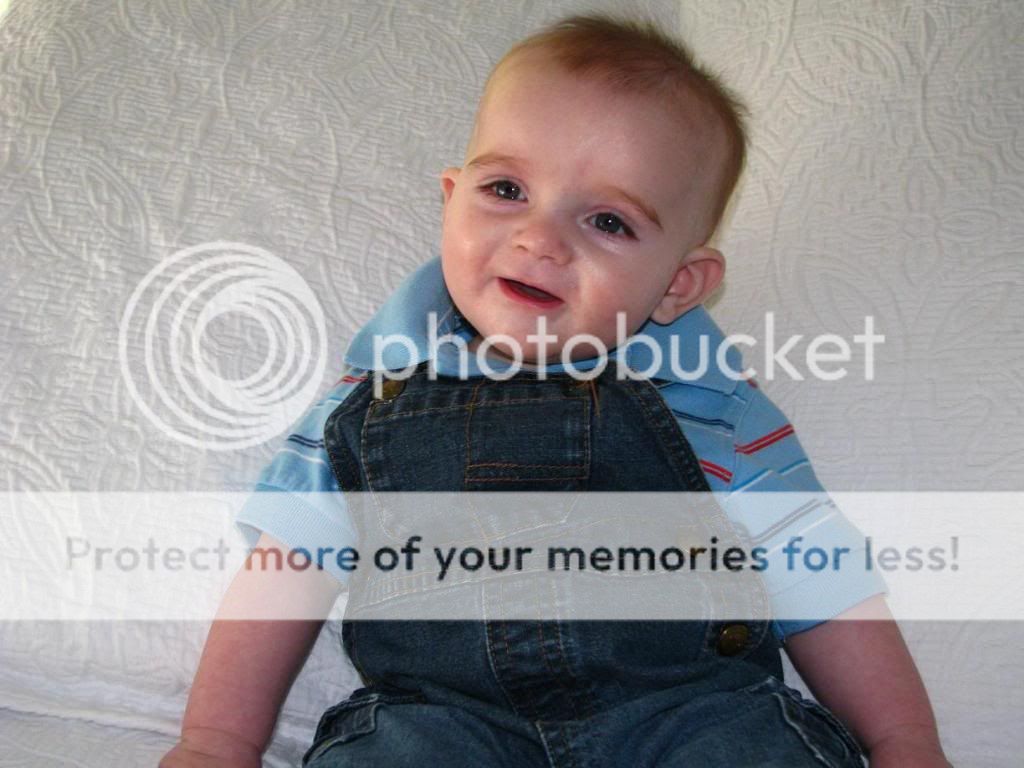 Big smiles!
Two Toothies...we call him "Sharp Tooth." That's his dinosaur name.
Sitting up!
ENJOYING THE FALL
Hanging out with Uncle Paul at soccer games.
PLAY TIME!
Playing in his tunnel. We think mobility will be coming soon.
He already loves a ball!
Big brother had to join him.
Playing blocks with big brother.
Looking so big now sitting up and playing.
Playing in the ball pen.
He really liked getting buried in the balls.
6 MONTHS!