We brought in the New Year in the beautiful city of Charleston where we attended a wonderful couple's wedding and New Year's Eve after party. It was a blast, the weather was terrific, and we even got some much needed rest! The only sad part was that Evan wasn't with us. Yes, this was very sad to me. I love my baby, and I want to take him everywhere with me. We just thought that staying up until after midnight on New Year's Eve away from home would be too much for him so we asked Grandma to come and stay with him. Apparently, they did stay up until midnight though! Grandma spoiled him completely rotten by taking him to eat at all his favorite places (lots of pizza and chicken nuggets for him) and taking him to the movies to see the new Yogi Bear movie. I was so jealous!
Anyway, Eddie and I did manage to have a great time together, and since this may be our only getaway before the new baby arrives, we can't really regret it.
Our first stop was Fort Moultrie on Sullivan's Island to see some history and the beaches.
The entrance to the fort.
Daddy loves big guns and cannons.
He's so handsome! ;-)
Pregnant Mommy enjoying the beach.
The beautiful Cooper River suspension bridge.
A pelican and some seagulls were enjoying the nice weather and sunshine.
Mommy even got to take her shoes off and put her feet in the water.
The pelican's flight.
And his landing too.
Hanging out on the rocks.
A nice day for a sail.
Mommy needed a rest break.
The Wedding and Party
Karen was a beautiful and elegant bride.
Our table with the Liffords.
The coolest CSL representers, Jolee, Katie, Tyler and Brooke!
The happy couple take the dance floor.
Dancing under the stars.
Karen and her father.
The CSL girls get the dance floor to themselves.
We are beautiful!
Mr. and Mrs. Lifford
Me and my sweet hubby!
Richard, Brooke, Karen, Jolee and Me
The bride joined the band!
Exploring Charleston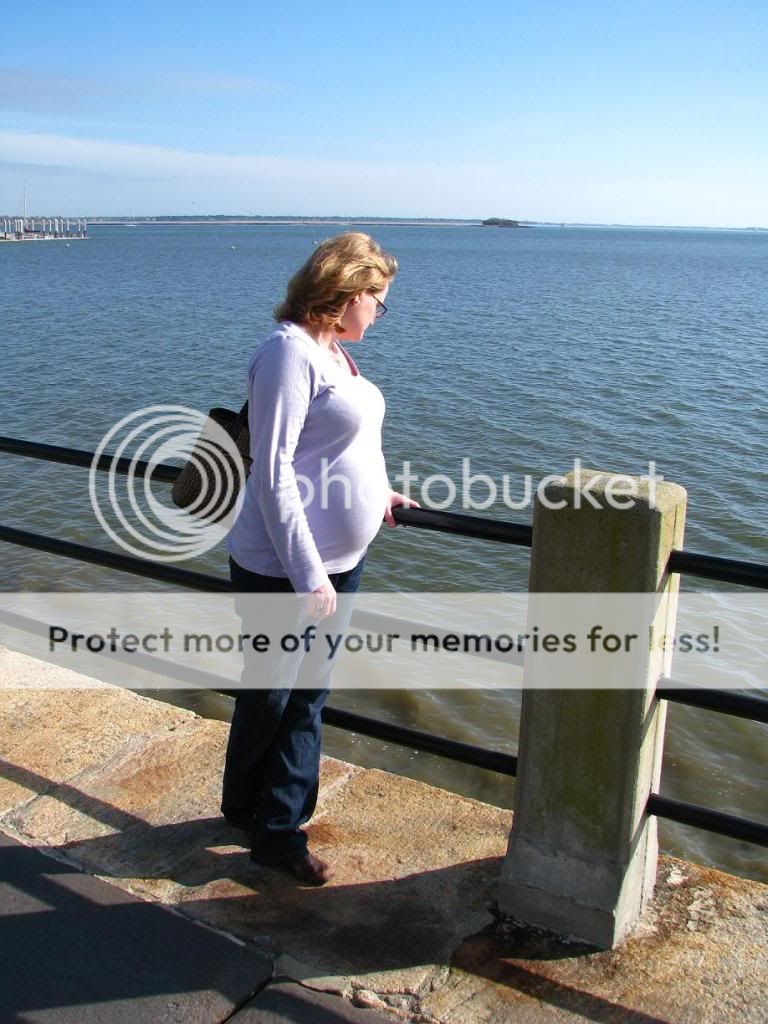 Walking along the battery.
A beautiful old Charlestonian mansion.
Decorated for Christmas.
Walking under the Live Oaks in battery park.
Mommy loves Live Oak trees.
A picturesque gazebo under the Live Oaks.
Mommy under the gazebo.
Nope, no horse and buggy ride for us this time.
Eddie got to see the Hunley, the first successful attack submarine. This is actually a replica that was created for the movie and is actually 10% larger than the original. The original is still submerged for another 5 or 6 years in a tank undergoing electrolysis to stop it from rusting. The eight men who died inside the submarine on that fateful night in Charleston Harbor have now been buried with honors.
Can't believe 8 men fit inside here shoulder to shoulder!