Another Sunday Playdate
Last Sunday, Cousin Lanny came over for a playdate. His sister, Emma, was not feeling well so she was in quarantine, and Lanny was bored with no one to play with at home. Uncle Paul had some yard work to do so he brought Lanny over for a few hours. Evan and Lanny loved playing with waterguns, playing in the sandbox, and watching a movie.
Evan says, "I'm gonna get you!"
You can do anything better with your tongue sticking out!
Cousin Lanny loved getting sprayed!
Lanny running from the water gun fight!
Movie date...I think they sat for like 3 seconds! It was a record for Lanny, believe me! ;-)
Memorial Day Weekend
So this weekend, the weather wasn't too Summer-like. We had some thunder, lightning, and even torrential downpours. Pretty typical stuff for the South, I guess. On Saturday, Eddie's Mom came up to celebrate her birthday with us. Evan made her a yummy chocolate cake and helped her blow out her candles! Daddy cooked a yummy steak dinner on the grill while we relaxed outside on the deck when it wasn't raining.
On Sunday, Evan had a birthday party to attend at Monkey Joe's. His "girlfriend" Chloe turned 3 so she will finally be joining him in the preschool class at school. The beginning of the party was a nightmare for us because Evan was in a foul mood and did not want to play on any of the big play places. It was so frustrating because he used to love these things when he was barely 1, and I would have to go into all of them with him. This time, he wouldn't even go in them with Daddy! After some pizza and cake, he did finally try one of the big ones with Daddy and loved it. He would have played for hours after that, but it was getting late, and we were tired. That night, Eddie and I watched
The Lovely Bones
, and I must say that movie was a tear jerker! The tragedy and horror of those beautiful little lives being snatched away by a monster! So sad!
On Monday, Eddie and I were kind of lazy and watched a marathon of
Lost
episodes (we are just starting the last season that we DVRed). After Evan's nap, we decided to take him to see
Iron Man 2
because he loves superheroes now. Call us crazy if you wish, but Evan was so well-behaved. He just wanted to go to the bathroom during the slower parts of the movie so he could go outside and play Iron Man and shoot his lasers at unsuspecting persons and objects!
Here are some pictures of the fun:
Evan helps Mommy make Grandma a birthday cake!
Using the mixer!
Icing the cake...Grandma wanted chocolate!
Grandma's birthday cake made by Evan
Evan gets to lick the spatula!
Cute little chocolate face.
Singing happy birthday to Grandma!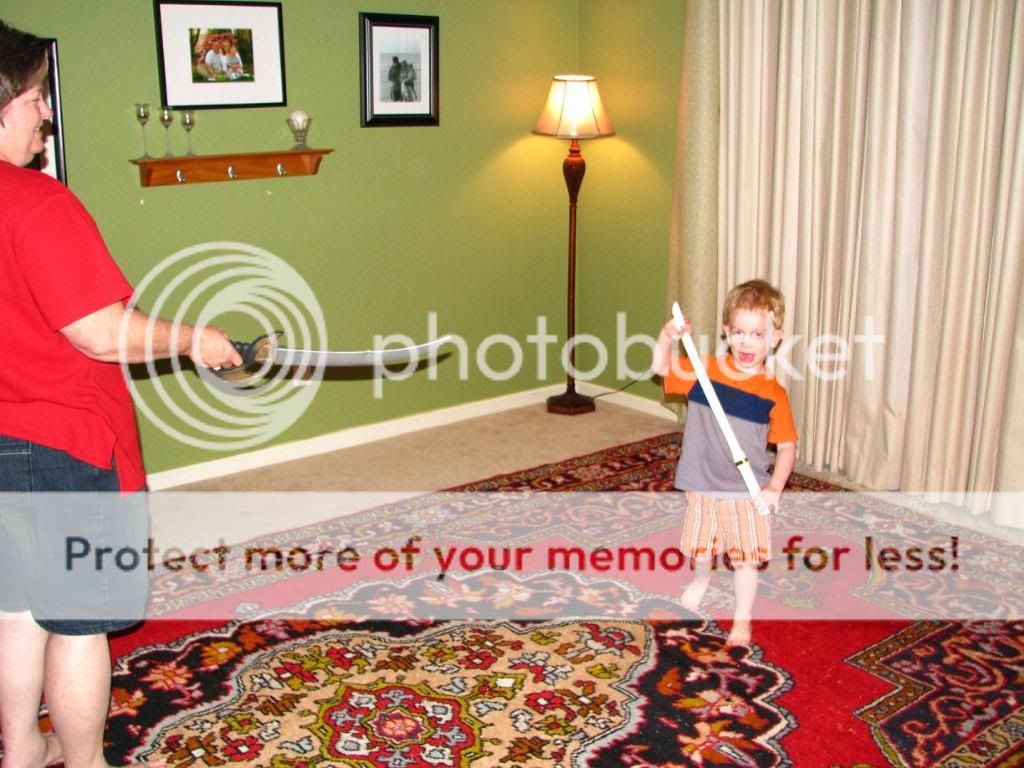 Sword fighting with Grandma.
The birthday girl.
Chloe wasn't scared to climb up to the big slide by herself.
And down she goes!
Evan tries out Monkey Joe's chair again.
Daddy and Evan playing in the shark's mouth!
Oh man, is Chloe underwater?
Evan decided he liked the little toddler area the best.
Evan rides the St. Bernard.
Oh no, Evan and Mommy get eaten by the mean ol' shark!
Evan finally tries a big slide! He loved it!
Evan and the birthday girl!
The birthday girl and Evan's pal Bryant play with My Little Pony! Uh oh, Bryant's in trouble!
Monkey Joe comes to the party!
Daddy and Monkey Joe are ol' pals!
A sweet picture of our boy!