We FINALLY got to take Evan to the beach this year at the end of the summer. It was a perfect trip except that it just wasn't long enough. We stayed in a wonderful resort hotel that had lots of fun swimming pools for Evan, including a large splash pool. Evan had not been to the beach since he was a tiny infant so we were so excited to show him everything. I had a really hard time narrowing down the pictures to put on the blog because we took so many good ones. I do apologize that this entry is so long, but you don't have to look at it if you don't want to.
His first look at the beach from the balcony! He had his bucket and shovel ready to play in the big sand box!
He loves me! He really loves me! :o)
Playing in the sand with his new beach toys!
Making his first "sand castle."
Sand shoes!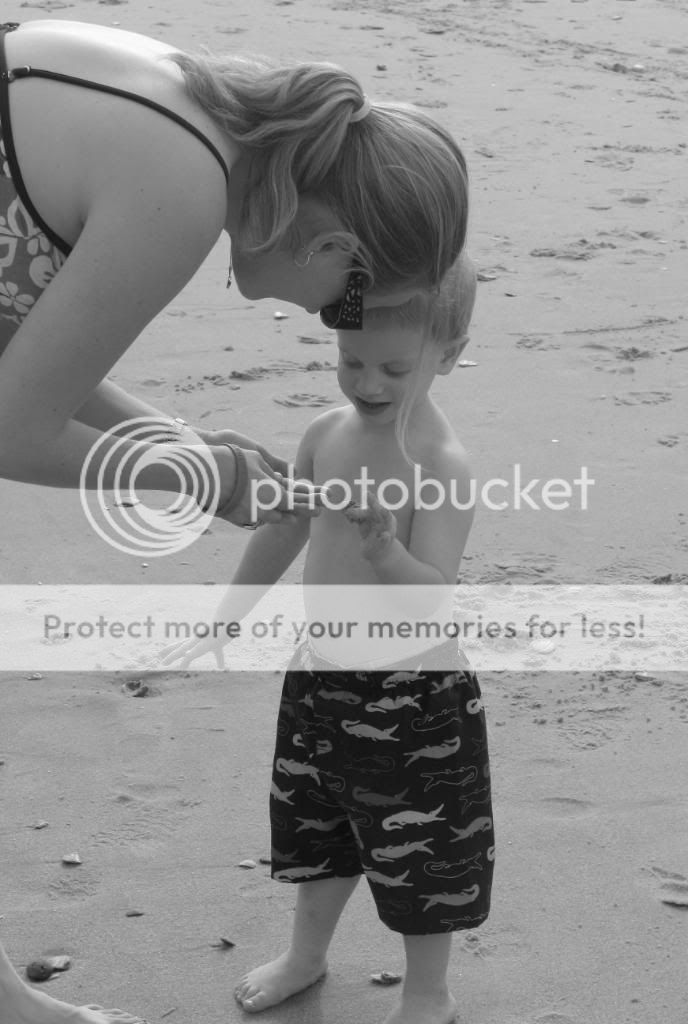 Mommy shows Evan a seashell!
And she teaches him to jump in the waves!
Walking on the beach with Daddy!
He said the surf was "bubbles."
His smiles made it all worthwhile!
Truly priceless!
The waves were so exciting!
He's posing! So pretty!
His true toddler stance...pouting!
Making a sand sculpture.
Throwing sand! He's 100% boy!
Mommy's turtle sculpture!
Evan playing in the splash pool. This water was so cold for some reason!
Evan loved this submarine so much and really wanted to take it home with him!
Daddy & Evan drive the submarine. Daddy has always wanted a submarine since he has "Hunt for Red October" memorized!
Daddy & Evan find a rainbow, and Mommy sees her pot of gold right under it! :o)
Evan made a new friend at the beach.
Evan's and Daddy's sand castle!
We went all the way to Egypt to see the pyramids and the Sphinx! Haha!
Daddy & Evan find a mummy!
We had to play Putt-Putt, of course!
We had to play pirate golf since Evan loves pirates! Argh!
Evan takes a practice swing!
Daddy got a hole-in-one!
Daddy and Evan look for treasure in the pirate cave!
Mommy stinks at putt-putt!
Evan climbs aboard the pirate ship!
Evan is the captain, and Mommy is his first mate!
Evan stops to pick Mommy a flower! So sweet!
Patiently waiting his turn!
"Alright, in the hole!"
A sweet picture with Mommy by a waterfall!
Our Beach Photography Session
Eddie took this very cool picture of some people parachuting.
Sherry took this picture of an awesome sunrise with a little boat in the sun's path!
A sweet Mommy & me picture.
Two adorable men.
Looking at seashells with Mommy!
And with Daddy!
Our Family Beach Picture